Reimagined through immersive technologies
The Sikh Museum Initiative/Taran 3d have been working with the Royal Armouries for two years to recreate the Akali Turban in their collection. The other objects which have been 3d modelled include a shield and helmet turban. The Akali Turban represents the third object from the collections. This adds to over 20 objects already created in 3d.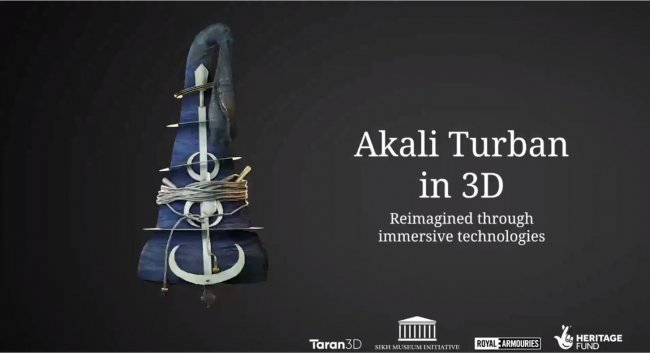 The Sikh Museum Initiative team with Taran 3d undertook the photography and then the photogrammetry of the objects before they were recreated into 3d models.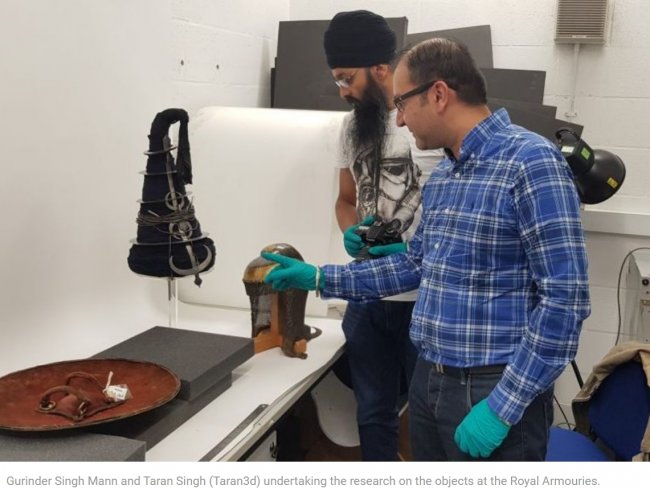 The Akali Turban
These are the signature Turbans of the Akali Nihangs the vanguard warriors of the Sikhs since the inception of the Khalsa or fraternity of the pure. The Khalsa was initiated by Guru Gobind Singh, the tenth Guru in 1699. Although the Akali army was formulated under the direction of Guru Hargobind, the sixth Guru and Baba Buddha a pious Sikh.
The Akali Turban or Dastar Bunga was most probably kept at Lahore in the Toshkhana or Treasury of the Sikh Empire. In the aftermath of the annexation of the Punjab many objects were taken by the East India Company, and then sent to the Tower of London. The Turban was then sent to the Royal Armouries in Leeds. It has been in the collections since 1853.
The Gajgah or "elephant Grappler" is the totem around which the Turban is surrounded with quoits (Chakrams), and small swords or kirpans. A wire chord or Tora holds the Turban together. The loose piece of cloth known as the Farla was given to high ranking Akalis.
The 3d model allows visitors to see the Dastar from different angles and see it close up. This forms part of the Anglo Sikh Virtual Museum project which has been used by schools, and educational institutions across the world.
The 3d model