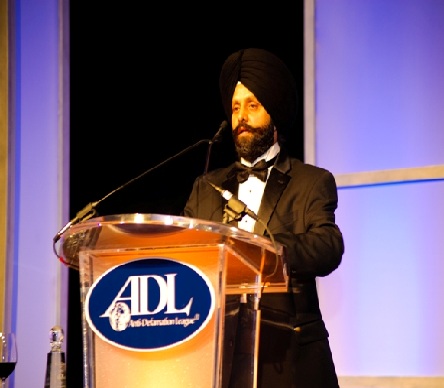 Anti-Defamation League (ADL), an organization of the Jewish people was founded 100 years ago in 1913 to secure justice and fair treatment to all. Over period of time it has become the nation's premier civil rights/human relations agency fighting anti-Semitism and all forms of bigotry defending democratic ideals protecting civil rights for all. It attempts to builds bridges of communication, understanding and respect among diverse groups of people in United States and around the world.
By honoring Rana (Lakhwinder) Singh Sodhi, a Sikh resident of Arizona at its Annual Jerry J. Wisotsky, TORCH OF LIBERTY AWARD DINNER on November 4th 2010 at Camelback Marriot Hotel, the Arizona Region of the ADL clearly justified the truthfulness of its mission. Almost close to 800 people were at hand to cheer the Award recipients. Rana Singh Sodhi, happens to be the youngest brother of S. Balbir Singh Sodhi, the first Sikh killed in U.S. four days after 9-11 due to a hate crime. Because of uncut beard and turban, the Articles of his Sikh faith, S. Balbir Singh Sodhi was mistakenly believed to belong to the group of terrorists from Mid-east responsible for 9-11 attacks although he was a Sikh immigrant from India.
In introducing Rana Singh Sodhi, Bill Strauss the director of Arizona Region ADL talked extensively and emotionally about Rana's achievements over the last nine years since his brother's death. Rana has been reaching out along with other members of local Sikh Communities to various civic and national activities in disseminating Sikh Awareness. Such activities were not limited to his local volunteering work with Sikh Police Advisory Board and other awareness activities rather his trip to white house and meeting with Senators and helping out Score a Sikh advocacy organization in Washington DC area.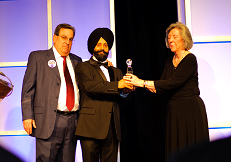 Rana Sodhi was this year's recipient of "Al Brooks Community Leadership Award" established 21 years ago to pay tribute every year to an individual who, in the course of daily life, gives back more than can be measured. In his speech Rana stated that when he arrived his dream was to take care of his family with full freedom to practice his faith but 9-11 changed entire focus when his brother became the first Sikh victim of hate. "It shook my soul. I decided to help those who believed in the freedom to practice their faith. I felt obligated to educate those who didn't know much about my faith and to inform that our philosophy is to live and let others live in harmony and peace. We are all God's people and we are all equal. Uncut beard and a turban should neither make one bad nor does their absence makes one better." At the end Rana Sodhi finished by stating that this has been and will be his message.
At least 25-30 members of Sikh and Indian community including Rana Sodhi's family and friends were at hand among a crowd of close to 800 attendees at the dinner to facilitate Rana Singh Sodhi for one of the greatest achievements of his life.
About the author:

Jaswant S. Sachdev, MD*
*Author of a recently published book "Square Pegs, Round Holes"
about the reflections upon the Cross-cultural dilemma of Indian-subcontinent Diaspora.
For more information on this book visit: www.SquarePegsRoundHolesBook.com
[email protected]