Being a Sikh means to learn forever, whether it's learning about principles or learning to face new challenges or learning how to adapt to the changes in our society. Same is true with the ongoing pandemic where we redefine "normal" and learn to accept it with grace.
When CDC published their first guidelines regarding the use of face mask, it included a picture of different types of facial hair on males. The purpose of the picture was to show "accepted" facial hair while wearing N95 mask. Although, it was published for healthcare workers safety, it also meant that majority of males would have to trim their facial hair. While it is challenging to wear N95 for hours for any healthcare worker on duty, but it could prove more difficult for healthcare workers with beard or a turban. Being a health care worker, I noticed many Sikh workers wearing pappers, or face shields and masks over their turbans. Some had long beards that need to be tucked in safely. It is common knowledge that many healthcare workers return home to their families, therefore, it is absolutely crucial to wear the equipment in an appropriate manner.
It is also worthwhile noting that female healthcare workers have their own challenges. Some of them are pregnant and are working continuously despite being in 3rd trimester. Others are forced to stay away from their children and families until the pandemic is over. It is no secret that many of them are working longer hours that may cause significant skin irritation for wearing the equipment for longer periods of time. Nevertheless, it is evident that health care workers are taming the beast with a smile on their face. With their faces behind the masks, each set of eyes tell their own story.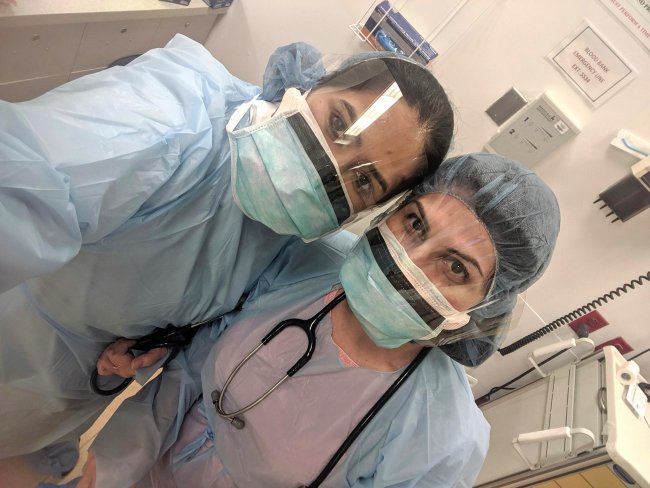 However, it wouldn't have all been possible without love and support of family and community. In the age of internet, I have seen pictures of Sikhs coming together to do langar sewa. I cannot thank enough for all the essential and non essential workers who step out of their comfort zone. It is the wisdom of Chardi Kala that has taught us to come though the darkness with light in our heart and twinkle in our eyes.