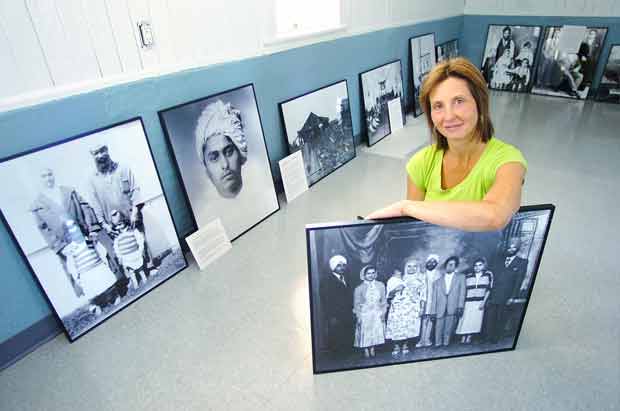 Kris Foulds, collections manager of The Reach Gallery, prepares to hang archival photographs in the basement of the Gur Sikh Temple in Abbotsford as part of a display for the historical building's 100th anniversary.
Photograph by: Jean Konda-Witte, TIMES
The buzz has been building all year for the 100-year anniversary celebration of the Gur Sikh Temple on South Fraser Way.
To honor the anniversary, the Khalsa Diwan Society has organized an event each month leading up to the big celebration next weekend, Aug. 26 to 28.
Over those three days, an estimated 10,000 to 15,000 people will descend on the oldest and longest-standing gurdwara in North America.
Many cultural festivities are planned, including a Sikh parade to Rotary Stadium, family fun activities, free food for everyone at the temple, and a commemorative ceremony on the final day.
"We're inviting the whole community to come out," said Satwinder Bains, director of the Centre for Indo-Canadian Studies at the University of the Fraser Valley.
"We're hoping it's not just the Sikh community.
"Obviously we're hosting it, but we're trying to involve as much of the community as possible."
Prime Minister Stephen Harper, along with Premier Christy Clark and other dignitaries, will join members of the Sikh community and the wider Abbotsford population on Sunday, Aug. 28 at 10 a.m. at the temple to unveil the centennial commemorative monument and newly established Sikh Heritage Museum.
Sikhs first arrived in what is now Abbotsford in 1905, working primarily in farming and forestry.
Sikh pioneers managed to purchase a one-acre property; then they and other men who worked at the lumber mill on Mill Lake carried timber, donated by the Trethewey family, on their backs from the lake up the hill to the temple site.
Abbotsford City Coun. Moe Gill said this weekend is an important one historically and culturally for the Sikh community but also for Abbotsford as a whole.
"I think Abbotsford should be proud of having the only Sikh temple in Canada declared by the federal government as a national heritage site," he said. "This is a community where we recognize multiculturalism and diversity as expressed in Abbtosford."
Gill will be on hand during the festival to welcome people and answer questions about the temple.
____________________________________________
- For more information on the weekend celebrations, visit:
www.ufv.cics/centennial or
phone the Khalsa Diwan Society at 604-850-7338.
- with a file from Rochelle Baker
© Copyright (c) Abbotsford Times