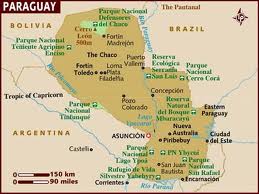 Asuncion, Paraguay was the 5th city and country on this 9th Lord of Miracles Tour in Honor of Guru Ram Das. It is the land of Guarani (the indigenous culture of Paraguay) in which the Paraguayans take great pride.
In fact the Guarani culture is so ingrained that the Paraguayan Spanish accent comes from the accent of Guarani. Billboards have slogans in Guarani for advertisements and every school teaches the language as a part of the curriculum. It is quite a change to see so much respect for their heritage and for the tribes that still exist in the country. It is a very spiritual culture and it may remind some North Americans of the Native American cultures throughout the U.S. and Mexico.
Paraguayans themselves are very soft and compassionate; it is no wonder why the Siri Singh Sahib (Yogi Bhajan) named Paraguay as the 'heart' of South America. I had heard stories of Paraguay's sweetness but still I was so surprised when we were stopped in the car at a stop light and a couple of people came to the window to ask for some money and Sat Pal Kaur opened the window, handed the people some coins saying "here my love, have a great day". I had never in my life seen a stranger communicate that way to another stranger. That made me fall in love with Paraguay. I even told myself that I would someday marry a Paraguayan woman but that turned out a little different, I ended up marrying a beautiful Brazilian woman instead. Anyway, point is there is respective beauty to each country in South America and Paraguay 'es el corazon'.
Arriving at the airport we were warmly received by a few members of the Sangat and then driven to the new Centro Dharma where Paraguay's first Gurdwara is. Oh sweet Paraguay, it was like coming to our home away from home and to see the new Gurdwara made us miss the old Gurdwara which was built with a mini sarovar (pool). Unfortunately it had to be relocated due to a thumping night club next door to it that would always disturb Sadhana and Prakash in the early morning. S.S. Satpal Kaur invited S.S. Gurubachan Singh to inaugurate the Yoga Center at Centro Dharma by chanting to Guru Ram Das for 31 minutes. It was a wonderful evening of bliss which later included our 2nd favorite food, Lebanese falafels and hummus (2nd to pizza of course). After satisfying our spirits with both meditation and food, we went to our beautiful boutique hotel and got some much needed rest.
The following morning we visited the house of Atma Dev Kaur for lunch and to discuss about the Langar program that she is continuing to do. Every day of the week she and/or different groups of people in the community gather together to serve Langar to people who live on the street in the Name of Guru Ram Das. They drive to different locations throughout the city and serve people all different kinds of food from pasta to kicheree, it is like Langar on wheels because they just open the trunk of their car and start serving. Atma Dev Kaur does all of the cooking in a kitchen she made at her house so that she could accommodate cooking for such a large number of people. And recently some of the local Churches have been wanting to get involved and help serve, so it has now become an interfaith Langar.
"(R to L): S.S. Satpal Kaur, Atma Dev Kaur, daughter of Atma Dev and S.S. Gurubachan Singh stand for a picture at the entrance of Atma Dev's house where we had a delicious lunch."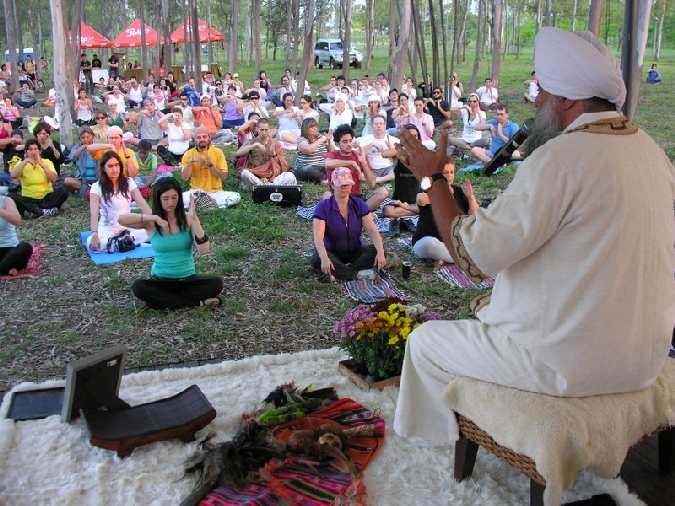 "S.S. Gurubachan Singh giving a lecture class at the 'Yoga Por La Paz' event which was located in Asuncion's largest park. It was a great way to end the day long yoga and meditation event."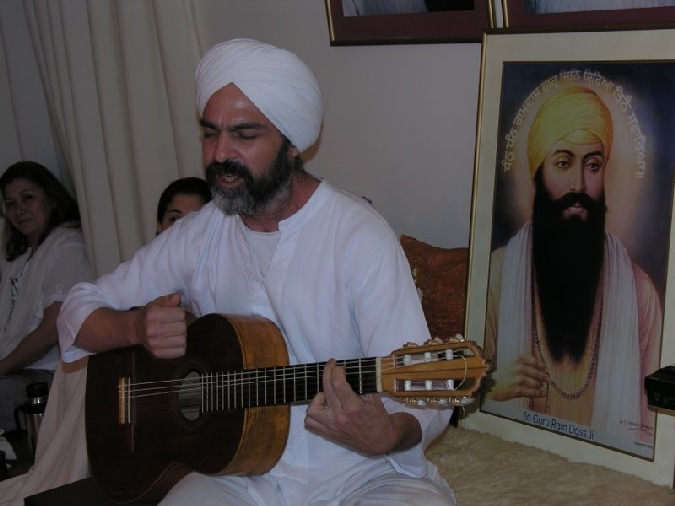 "Sat Siri Singh singing a song in Guarani (the native language of Paraguay) after we all meditated to Guru Ram Das."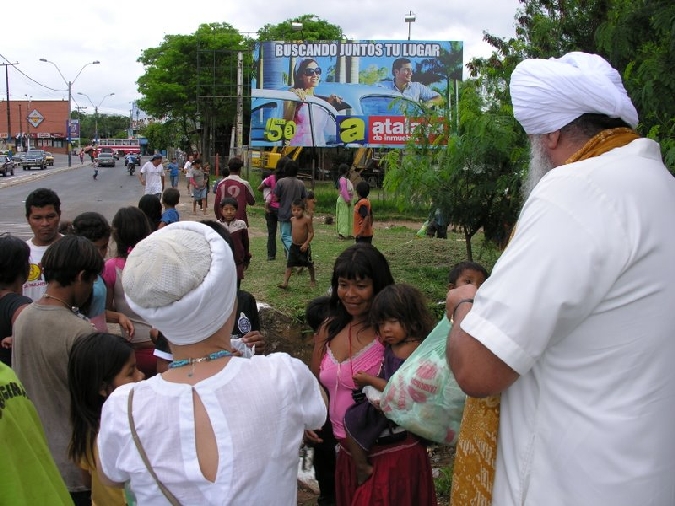 "S.S. Gurubachan Singh and S.S. Sat Pal Kaur serve women and children Langar on the streets of Asuncion."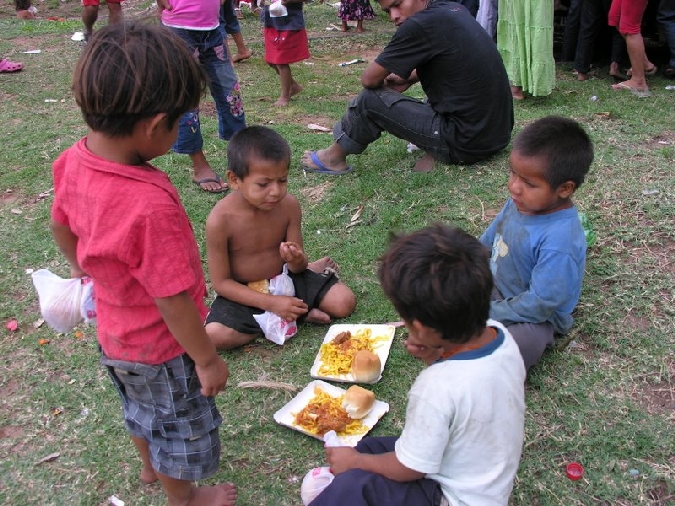 "Some children sit on the ground to enjoy their Langar, God bless them."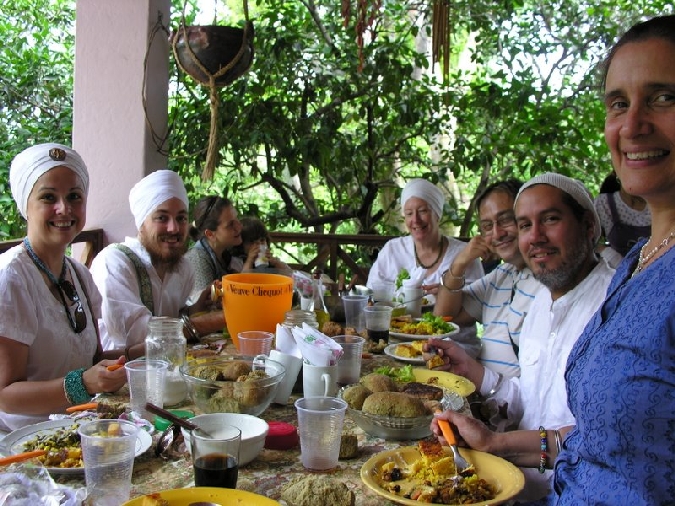 "The Sangat joined together at the house of Hari Jot Singh and Sat Nishan Kaur for a beautiful lunch in honor of the Tour."



"(L to R) S.S. Sukh Dev Kaur, Oscar Rivas (Minister of the Environment) and S.S. Gurubachan Singh stand together for a picture."

It is actually a very interesting story of how Atma Dev Kaur started serving Langar and how it progressed. About 3 years ago S.S. Gurubachan Singh encouraged her to start a Langar Seva program in Asuncion and the week after she had this discussion she had already started to serve people on the streets. She was serving them bread with ginger, onions and garlic and a lot of other great and healthy foods. An interesting thing also started to happen after she had began Langar, her businesses started to grow. She saw such an increase in her business that she was able to expand Langar and serve more people. Then after we published the first article of her Langar Seva on Sikhnet, people began contacting us in the U.S. wanting to donate to have the Langar happen more often in Asuncion. It was really amazing to see how when the Guru wants something to happen, He will orchestrate everything to fall in place so that it happens magnificently.
That late afternoon was 'Yoga Por La Paz' (Yoga for Peace), an event coordinated by Harijot Singh of Asuncion which consisted of a whole day of yoga and meditation classes free of charge. He had people from all different walks of life attending this huge event, from Hari Krishna's to Catholic's, Sikh's and it was a great turnout. More than that it was an experience for everyone, for the open public to attend and it was all coordinated and performed as seva. At the end of the day S.S. Gurubachan Singh gave a lecture class to the group of Paraguayans which ultimately was focused on breath and how to control the breath through the science of Kundalini Yoga, the most ancient science of yoga. Since the theme was peace and ultimately that is the goal of Yoga and meditation, S.S. Gurubachan Singh taught them that to have world peace or any kind of peace we must first have peace of mind. These were actually the words of The Siri Singh Sahib Ji (Yogi Bhajan) and he would make this a point at the International Peace Prayer Day and in his classes that he taught daily.
The following day we spent celebrating Guru Ram Das's birthday. In the morning we had two and a half hours of chanting "Dhan Dhan Ram Das Guru" which set us in bliss for the day. Then Sat Siri Singh sang some Guarani songs which we always look forward to hearing when we visit Paraguay. Next on the Agenda we went out to a couple of different spots in the city to feed the homeless some Langar with Atmadev Kaur, S.S. Sukhdev Kaur, S.S. Sat Pal Kaur and some other members of the Sangat. It was our way of celebrating beloved Guru Ram Das Ji's birthday on this tour, it was how we wanted to honor him. Once we had finished serving all the Langar we drove 2 hours to the villa house of Harijot Singh and Sat Nishan Kaur and family where they hosted a beautiful lunch for the Sangat. This house is a true Paraguayan country home placed right in the wilderness with thick, jungle-like vegetation. The house and gardens are beautiful with all kinds of organic vegetables and native plants. The lunch was an array of great healthy food and more importantly, the company was the most memorable. Paraguayans are always a charming people to be around, everyone talked and we all celebrated this beautiful day.
To follow in the evening S.S. Gurubachan Singh taught another class at a local yoga center to group of more athletic based learners. The class was great and to the point; breath, breath, breath! Whether it was understood or not, is not in our hands, the results are left up to the Guru. The next morning started with a class for the Police of Paraguay.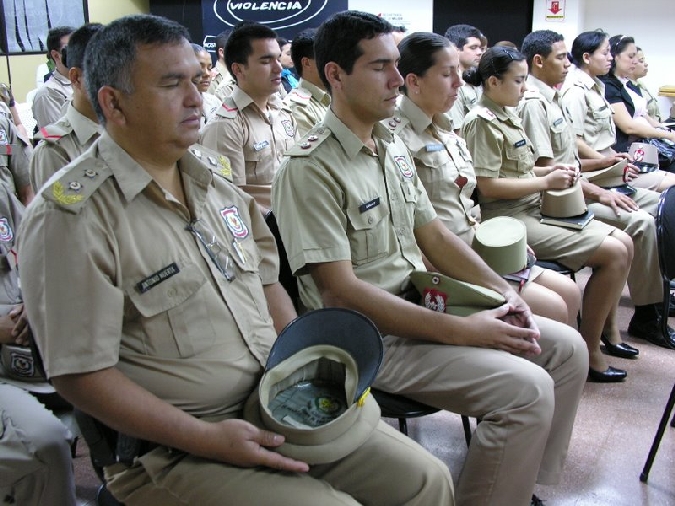 "Police from the domestic violence division learn how to meditate in this class with S.S. Gurubachan Singh."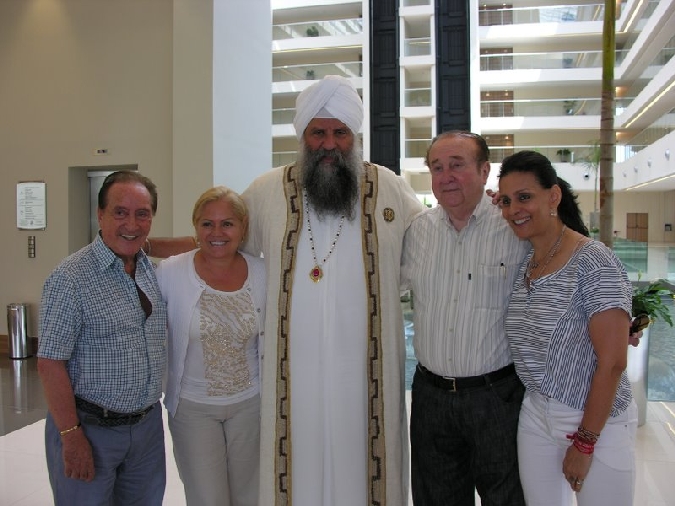 "S.S. Gurubachan Singh (center) stands for a picture at the newly opened hotel of Nicolas Leoz (right) and Siri Santokh Kaur (far right) with his family friends (left). The Tour was invited by their family to a lunch to honor their new hotel."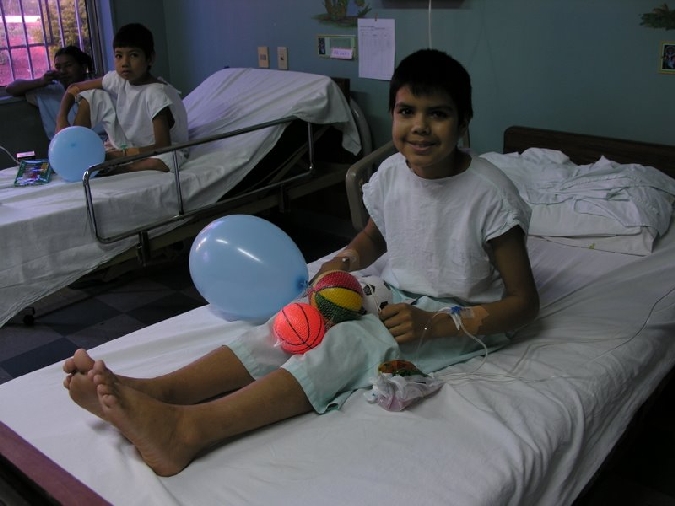 "A young boy at the children's hospital we visited smiles for the camera after we give him toys and some cookies."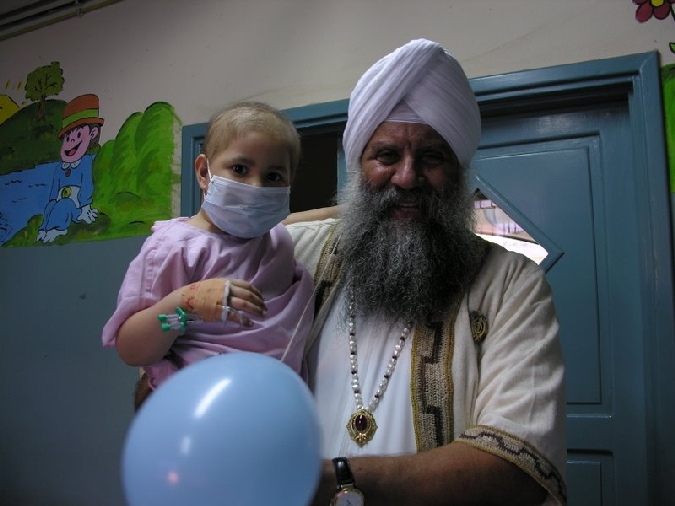 "S.S. Gurubachan Singh carries a young girl with cancer who is undergoing chemotherapy. Even though these kids were all not feeling well, they were all smiles when we walked in."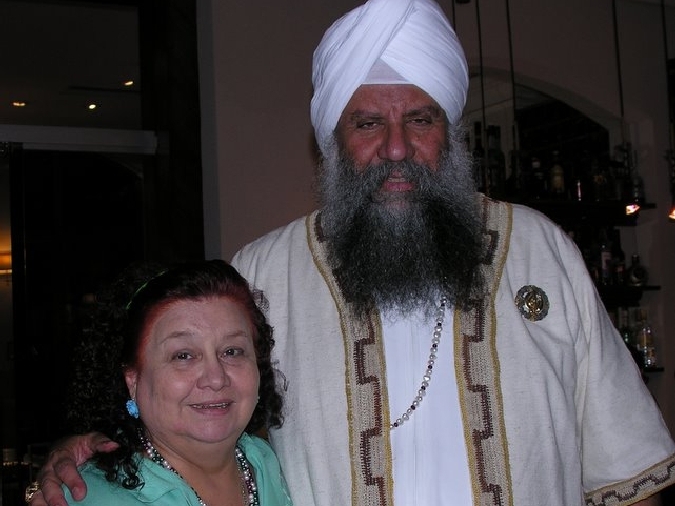 "S.S. Gurubachan Singh (right) with Minister Gloria Rubin (left) when she came to visit us at our hotel lobby."

This group of police was brought together by the Minister of Women's Affairs, Gloria Rubin, and their division focuses on domestic violence. It was an interesting turn in the way S.S. Gurubachan Singh teaches the police because usually he just teaches a large general group or a large group of ranking officers but this was a division that we had never really thought of. The group definitely got in to the meditation and the breathing, their commander was the most impacted. He meditated the best of the whole group and after the class invited us to come back and continue some more consistent classes throughout the year. The police were actually not the only ones who attended the class, all of the Ministry cabinet members attended as well. This is now the 3rd year that we have really been in touch with their organization and each year becomes more and more impactful. Soon we will start to see meditation incorporated in more of their programs for women and we hope it will start to reach other branches of the government and people.
For lunch we were invited to a new hotel opened by the family of Nicolas Leoz, the husband of Siri Santokh Kaur and president of the World Federation of Soccer for all of Latin America. Pretty cool right? I mean if you are a soccer fan and know about South American soccer then this would be one of the greatest experiences of the Tour. I cannot relate 100% but none the less it was pretty awesome shaking his hand. Mostly because of the things I've heard that he's accomplished and that he still is a hardcore worker at the age of 80+ years. The hotel was really quite beautiful and it was a nice way to honor the Tour.
In the afternoon we visited a children's hospital where our beloved Dr. Meherbani Kaur works. We went to bless all the children who were sick or terminally ill and brought them all cookies, juice and toys. It was a very touching, and at the same time a heart wrenching experience to see all of these children both recovering and suffering from illnesses. It was really Guru Ram Das's blessing to this hospital and to all of the children and to Meherbani Kaur who does such a great work and seva in helping so many ill children.
From there we had to dart back to our hotel where the Minister of Women's Affairs was waiting to greet us since she had been out of town from the day we arrived. It was such an honor for us to be visited by her and she is actually a joy to be around and a very impactful woman. Her story is pretty amazing from the brief history I have heard of her and her family. When we first met her actually, she was running a women's & children's shelter where women would go if they were on the streets or were abused by their husbands. She ran an effort aside from her husband, who also helped shape Paraguay into what it is today as an activist, to serve the people and inspire many. Her whole extended family is now either in the media or serving the people through NGO's and other programs. I don't think I have ever heard of such an influential and political family who are simply interested in serving, and that is why people like them. It is not because of what they say it is because of their actions day after day.
It was quite a trip to Paraguay overall and we were sad to leave. It is like every other country we visit actually, the people are so sweet and loving that when it comes time to go we don't want to leave. But the Tour must go on so Guru sent us to our next countries, Argentina with a brief stop in Uruguay. Stay tuned as we cover these countries, and only three more after that!
Sat Nam, Ram Das Singh