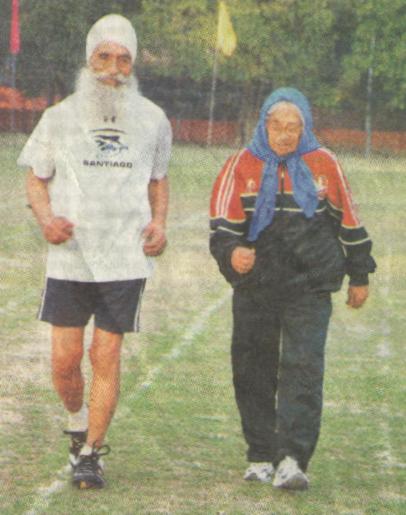 Gurdev Singh, 72, and his 95-year-old mother Mann Kaur during a practice session in a park. KESHAV SINGH/HT
CHANDIGARH: Gurdev Singh may be a 72-year-old, but he sprints like a man half his age. The septuagenarian can still complete the 100m sprint in an astounding time of 14.9 seconds, which even betters the minimum time kept by the Chandigarh Police for physical test during recruitments. But this is not all. Three years ago, he motivated his mother to take up athletics and now, 95-year old Mann Kaur, along with her son Gurdev is gearing up to compete in the World Masters Meet to be held in the United States in July.
This is probably a world record of sorts-the oldest mother-son duo competing in the international arena- that too in the same competition.
"My son introduced me to athletics. I was hesitant at first, when the idea of stepping into the competitive. arena was thrown at me. But now, running has become a part of my life," said Mann Kaur, who donned the track pants for the first time in her life last month during the 32nd national masters meet. She won a gold in both the 100m and 200m races in the 90+ age category.
The top honours in the meet made Kaur eligible to represent the country in the world meet. Great grandmother Kaur's son Gurdev, who got Canadian citizenship in 2010, will be representing his adopted country in 100m, 200m and long jump in the meet.
"I was a regular member of my college athletics and football teams, but my sports career ended with my graduation. But, I was always a fitness freak and in the 90s I started competing in the veterans meet and once again sports became my life's best buddy," said Gurdev Singh, who has a dozen of international medals in his kitty.
Armed with the 'Fitness For Life' motto, he said, "It was while participating in the World Master Games in Canada in 2008 that I saw a 90-year-old woman compet ing in a 100m event. This was it. I decided to introduce my mother to athletics. Earlier, her best timing in 100m was 1.05 minutes and now she can do it in 50 seconds," Gurdev said.