Some men were destined to die gloriously and be forever remembered in history. In the face of guaranteed annihilation, these men made their stands, ready to give their all against insurmountable odds.
The story of 'Bukit Kepong' has been embellished over and over the years. It is a tale of courage in the face of extreme danger fighting against overwhelming odds, but the story of the pirates attack on Semporna on March 1954 remains a little known. It is worthy to be remembered.
March 29, 1954, will always be a day to remember for the family members of Late Sergeant Sagar Singh. It was on this day Sergeant Sagar Singh was killed by a band of pirates from the Sulu Sea who raided a small town of Semporna, British North Borneo ( present day Sabah, Malaysia). The memories live on until today through his family.
Recounting of the incident and their father's 68th anniversary of his death, Late Sergeant Sagar Singh's children shared their testimony of the incident of that dreadful day.
Throughout its history, the Sulu Sea has been plagued by pirates. For many years the sea was the domain of the Moro, a Muslim people living not only in the Sulu Archipelago but also on the Philippine islands of Mindanao and Palawan. North east coast of Borneo, has unwillingly become a paradise for pirates who raid the state from hide outs in the nearby Sulu Archipelago of the Philippines.
This is a true story of how, a brave little band of six police men lead by Sergeant Sagar Singh made a heroic stand against overwhelming odds holding the band of pirates off for several hours and how they attempted to prevent the pirates from looting the town but they were hopelessly outnumbered and outgunned yet today their heroism remains little known.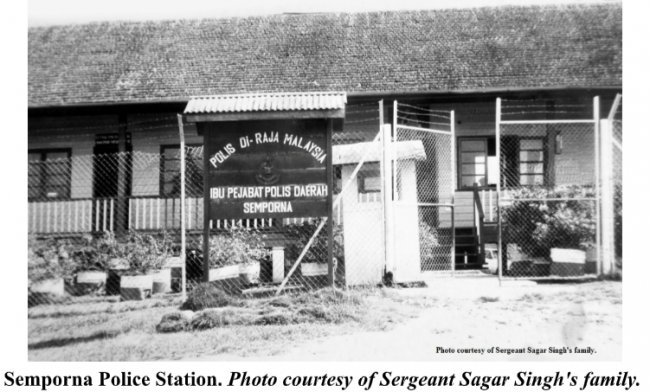 The officer commanding the Semporna Police station (OCS) at that time was Sergeant Sagar Singh. There were total 7 police personnel including Sergeant Sagar Singh in the Police Station. Approximately about 4.30p.m., Sergeant Sagar Singh returned from his work to his barrack. In the evening as usual he will joined a few of his men to play football on the field with the locals which was located near to the police station.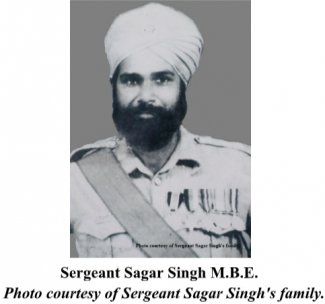 Shortly after 5 p.m. , a band of about 30 pirates wearing black balaclava and heavily equipped with automatic guns came to the jetty in "Kumpits" (fast native crafts powered by outboard motors ), swept silently into Semporna's jetty in broad daylight and started firing shots and brandishing their long "barong" (machete), shouting their blood - curdling war cry to frighten people. Most people took to their heels and fled into the jungle.
Sergeant Sagar Singh and few of his men who was on the field at that time, was startled by the gunfire and noticed the men in the black balaclava firing shots at the jetty. He ordered his men to rush to the police station at once and get ready and he and constable Bullah went to the barrack to alert all their families to take refuge. Constable Bullah remained at the barrack to guard the families.
Sergeant Sagar Singh, rushed to the Police station and started to repulse the attack, backed by constable Sulaiman, constable Gimor and constable Jambuan who was on duty during that time at the station.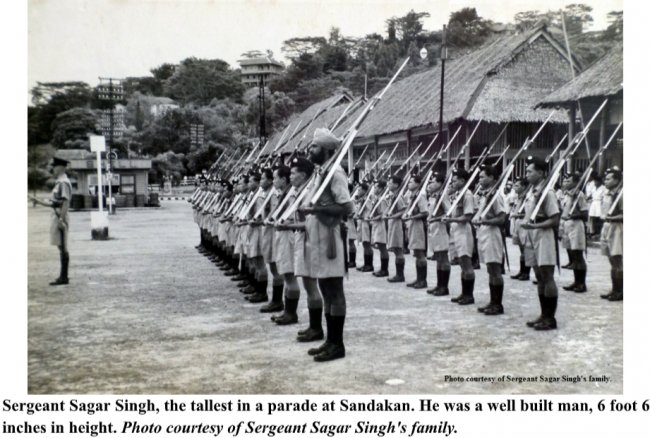 At the same time, Mr. Thomas Robert Barnard, the Assistant Conservator of Forests, North of Lahad Datu who happened to be at Semporna to carry out log grading work and was alerted of the dire situation, and Bernard took out his shotgun and fired at the pirates who was attacking the police station. He managed to kill one pirate and wounding the other before he was himself shot in the back by another and later he died.
Outgunned and surrounded, they chose to preserve their honor rather than surrender. They continued to fight bravely until one by one of his men were killed. They were running low on ammunition.
Sergeant Sagar Singh rushed to the armoury to get the ammunition supply. In the final hours of the fierce battle, Sergeant Sagar Singh was shot while he was getting the ammunition supply and he collapsed. By the time, the pirates had breached into the police station and their wireless transmitter was put out of commission.
A little while later, he gained consciousness, although wounded he got up to reach the ammunition supply and the pirate saw him and he took his 'barong' and slashed him on the stomach repeatedly. Later he was found lying motionless on the floor nearby his desk, covered with blood and holding his badly slashed stomach.
Although he succumbed to gunshot wound & slash wound later, the brave heart showed exceptional devotion to duty and exemplary leadership by making the supreme sacrifice. The rest led by Police Constable Sulaiman rushed out of the building. Constable Jambuan who had run out of the building unarmed was waylaid by a 'barong' armed pirate and was slashed to death on the football field.
The pirates had taken control of the station. The pirates remained there for three and half hours. The pirates pillaged shops and escaped gold, cash, large stocks of cigarettes and cloth. They also took with them arms and several thousand rounds of ammunition from the Police Station armoury. They left Semporna after firing farewell salvoes into the air.
The pirates killed six people and wounding many others. Sgt. Sagar Singh, P.C. Jambuan & P.C. Gimor died in the course of duty.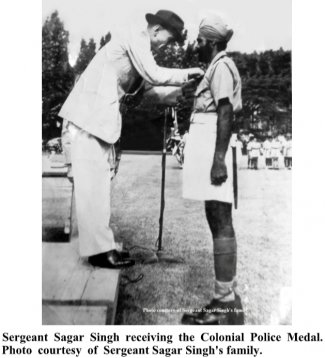 Sergeant (Late) Sagar Singh s/o Santar Singh and Mrs. Partap Kaur of Guniti Kalan, Patti Sanguki, PEPSU, India, came to Jesselton (Kota Kinabalu) to serve with the North Borneo Police Force in the early 1930's .
Later, he served at Kota Klias, Beaufort from 1943 till 1945. In 1945 he served at Jesselton and in 1948 at Lahad Datu.
In 1949 he went back to India for long service leave. After returning in 1950 he was posted to Sandakan and in 1952, he was promoted to Sergeant and he was posted to Semporna as the (O.C.S.) officer commanding the Semporna Police Station.
He served during the Second World War. He received the Pacific Star and the 1939 - 1945 Star. He was awarded the Colonial Police Medal for long service and good conduct. He served as a Police constable from:- 9/12/32 ~30/4/1947. Lance Corporal:- 1/5/47 ~14/7/1950. Corporal; -15/7/1950~18/12/1950. Lance Sergeant; 19/12/1950 ~31/12/1951. Sergeant; 1/1/1952 ~29/3/1954.
Sergeant Sagar Singh (Late) No. 451was awarded the Colonial Police Medal for Gallantry, posthumously. He was also awarded the Member of the Order of the British Empire (M.B.E.)
Sergeant Sagar Singh and Philomena got married in 1942. They had 6 children together. The eldest was Jitoh ,followed by Gurdial Singh (Philip), Tejoh (Mary), Hardial Singh (Joseph), Namoh (Datin Theresa William) & Chamo.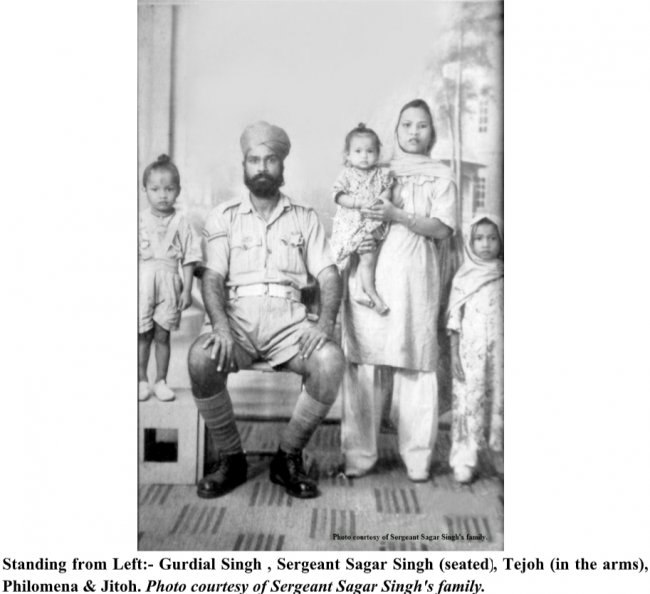 Like Sergeant Sagar Singh, many other Sikh Policemen have exhibited courage on every field and shown unflinching devotion to duty in the face of daunting odds too. Their devotion to duty and their splendid loyalty to their orders and to their leaders make a record their nation should look upon with pride for many generations.
To commemorate those Policemen killed at Semporna Police station on 29th March 1954, a monument was erected at Semporna, in the remembrance of those Policemen killed in the incident.
The blood spilled by those who rallied to defend the country (then called Malaya) against security threats will never be forgotten. They fought with unquestioning valour and loyalty, winning some of the highest bravery awards. We must be gratitude to those who died that so we could live in freedom.
Acknowledgements
I am thankful to Datuk Gabriel William and Datin Theresa William & the children and grand children of late Sergeant Sagar Singh for their cooperation given to me during the interview session.
SELAMAT MENYAMBUT HARI POLIS KE- 215 !.
Useful resources:~
The Sabah State Archives.
https://www.yumpu.com/en/document/read/35467392/special-features-sabah-f...
https://www.thegazette.co.uk/London/issue/40212/page/3689
https://www.thegazette.co.uk/London/issue/40211/supplement/3687
http://www.goodallartists.ca/thomas_robert_barnard.htm
Serangan ke atas Balai Polis Semporna Tahun 1954:~ Sumber Buku Sejarah Polis Negeri Sabah 1881 – 2006, Muka Surat 78 & 79: Muzium PDRM.