Lord Bourne described occasion as "proud day for all Sikhs"
London, UK – 25 March 2017: The fifth annual British Sikh Report (BSR) was successfully launched at Parliament on Tuesday night (21st March 2017). Based on a survey of over 2,000 Sikhs throughout the country, it aims to provide robust and reliable data on the views and opinions of Sikhs as well as give a snapshot of the British Sikh community.
Hosted by Pat McFadden MP, the launch was attended by MPs, Peers, government officials, leading civil servants, representatives from a variety of NGOs and interfaith charities, and over 100 members of the Sikh community from across Britain.
According to the BSR 2017, 13% of Sikhs say they have been victims of hate crimes since the Referendum, but there is also a strong sense of duty and national pride amongst British Sikhs, with 69% of them saying they would support their son or daughter joining the Armed Forces. The BSR also highlighted that over 72% consider violence and sexism as affecting British Sikh women, whilst 84% felt that female mental health support should be provided in gurdwaras.
Other key findings relate to attitudes towards Partition in 1947, the impact of Brexit upon the Sikh community, and other issues affecting British Sikh women.
Before the event, Lord Bourne of Aberystwyth, Minister for Faith and Integration, said that "On this proud day for all Sikhs, I encourage everyone from the community to embrace the findings of the report and to continue to work hard to improve all our communities."
At the launch, the Lib Dem peer Lord Dholakia commended the BSR 2017 for its "recognition of the issues that need to be tackled by the Sikh community."
Slough MP Fiona Mactaggart congratulated the BSR team "for consistently producing this report. It should not be given up, because it produces information that can change things."
The Shadow Chancellor John McDonnell MP acknowledged the challenging questions asked by the BSR 2017 and said that "it takes a bit of courage sometimes to address a number of these issues, but it's important to have this information."
The Chair of the All Party Parliamentary Group (APPG) for British Sikhs, Rob Marris MP, congratulated our Chair Jasvir Singh for receiving an OBE in the New Year's Honours List and gave an update as to the work being done by the APPG.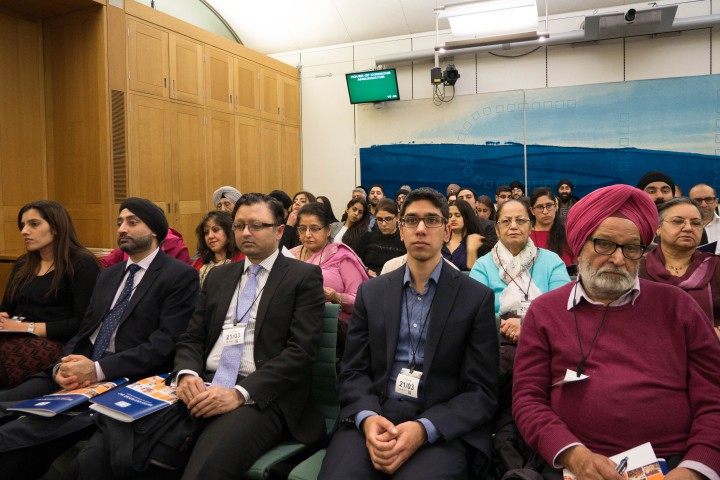 The evening concluded with an opportunity for the attendees to network with each other as well as speak to the accomplished team behind the BSR 2017.
Following the proceedings, some of the BSR team members spoke at length to the armed police officers standing guard outside Portcullis House and discussed issues regarding safety in London. The events that took place at the same location less than 24 hours after the launch of the BSR 2017 have shaken many BSR team members and attendees at the event, and their thoughts go out to the victims of the appalling attack at Westminster.
– END –
Notes to editors:
An online questionnaire was created by an independent team, using societal and community-based knowledge of issues affecting the Sikh population. Academic bodies, third sector organisations and various corporations were then invited to give their input on questions within the report, before it was disseminated to the wider Sikh population.
The British Sikh Report is available to download from www.britishsikhreport.org.
A full video of the launch event can be seen below:

170321 British Sikh Report 2017 Launch from Jagdev Singh Virdee on Vimeo.
The photographs are credited to Gagan Singh Sadana.
The people in the first photograph are (from left to right):
Rani Kaur Bilkhu (founder of Jeena), Jagdev Singh Virdee (BSR Editor), Rob Marris MP, Hartej Singh (BSR team), John McDonnell MP, Dr Jagbir Jhutti-Johal (Senior Lecturer at Birmingham University), Gurmit Kaur (BSR team), Fiona Mactaggart MP, Jasvir Singh (BSR Chair), Rajinder Kaur Lard (President of Harley Grove Gurdwara), Tejinder Sahota (BSR team), Sanj Mehmi (City Sikhs), Amerjit Grewal (BSR team)
Media Inquiries:
Contact us at [email protected]
Full Quote from Lord Bourne of Aberystwyth:
"I am pleased to see the launch of the latest edition of the British Sikh Report. Now in its fifth edition, this document captures the ongoing changes in demography amongst the Sikh community in the UK.
However, this survey is more than just a Sikh census. Its launch in our Parliament today is fitting, as this is a tool, I am sure, which will inspire Sikhs of all generations to become more and more involved in the political process, from engagement with political leaders, to running for office.
Sikhs have always been active in their local communities - reaching out to all ethnicities and faiths - and I am confident that Sikhs will be continuing this trend, and taking a greater role in initiatives that will help their communities now and in the future.
On this proud day for all Sikhs, I encourage everyone from the community to embrace the findings of the report and to continue to work hard to improve all our communities."


Jasvir Singh OBE
City Sikhs
"City Sikhs is one of the leading Sikh organisations in Britain. Our mission is to create positive change within society and inspire people to be the best they can be."
Copyright © 2010 - 2017 City Sikhs. All rights reserved.