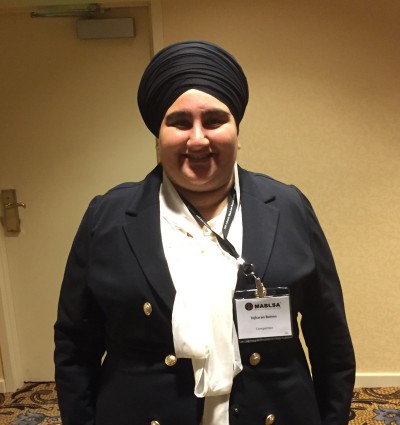 On February 18, 2017 Sikh law student Tejkaran Kaur, became the first Sikh, to win the best oral advocate award in the Frederick Douglass Moot Court Competition.
Tejkaran Kaur is currently perusing her law degree at Washington and Lee School of Law. She is a third year student and has a full merit scholarship.
Tejkaran wears a turban and is the only Sikh at her school. As a turban wearing female in a primarily Caucasian school, she stands out. he is a member of the schools moot court competition team.
At this years Fredrick Douglass inter-school competition her legal knowledge, her passion and articulation stood out from The rest. This annual competition is meant to allow law students a platform where they can develop Skills and compete for the title of best advocate.
Every year hundreds of students from law schools across the United States, compete in front of tough judges .The students are judged on their presentation and oral ability as well as knowledge of the law.
Tejkaran Kaur was the only Sikh at the competition. She is the first Sikh to win best advocate. Tejkaran Kaur has been an active member of the Sikh Community, her whole life and has participated in countless symposiums, gurmat camps and Sikh youth programs.
In undergrad, she founded the Queens College Sikh Club. With her law degree, she hopes to fight for the social justice our religion is based on.