"Hidden in Hugs" is a wonderful story of an innocent reindeer, Rudolf.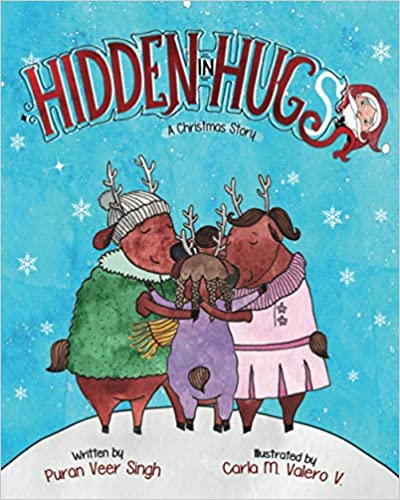 Hidden In Hugs: A Christmas Story
Paperback – Large Print, November 11, 2020
by Puran Veer Singh (Author)
Item Weight : 4.3 ounces
Paperback : 32 pages
ISBN-10 : 173276185X
ISBN-13 : 978-1732761858
Dimensions : 8 x 0.08 x 10 inches
Publisher : Fiery Blossom Creations (November 11, 2020)
Language:  English
At Christmas time, Rudolf is traveling around the world with Santa to distribute gifts. He keeps feeling very cold regardless of the location he goes to.
Howsoever warm the country may be, Rudolf feels chilly. Finally, when he comes back home to his family and gets their hugs, the chillness gets replaced with warmth, warmth of the love and hugs of his mother and his family.
It was somewhere in February 2020 when I visited Puran Veer Singh.  Every other day, he would write a few words of the story and talk excitedly about that.  I was impressed by the thought process and was amazed at the journey of Rudolf around the world. He shared that he had learnt about the countries and their weather from one of his school lessons. His Mom shared that Puran had celebrated Christmas the year before with his friends in family. He was so happy with the experience that he wanted to present something to them about Christmas at Christmas time. What a wonderful way to express gratitude and the warmth of Christmas I reflected as I gave the little author a hug.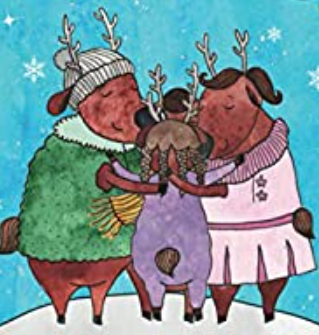 But why the hugs, I wondered. He quickly ran to his room and shared a picture of him and his siblings from the new year's vacation. He was hidden in their hugs and as he told me, he had a wonderful time full of love and fun with them. It is amazing how this young child chose to express the most valuable of experiences through words and pictures.
Congratulations Puran! It is so awesome to finally hold your book in my hand.
It warms my heart to read your dedication to friends and family and the happy memories you have created with them.
With love,
Nanima, Harminder Kaur
Book trailer :
Amazon link to buy the book: https://amzn.to/3l5AwPc