This new book is the world's first English short novel about one of the most charismatic and courageous leaders in Sikh history. SikhNet had an opportunity to interview the author, Ranveer Singh, here's what he had to say.
1. Have you always been a writer?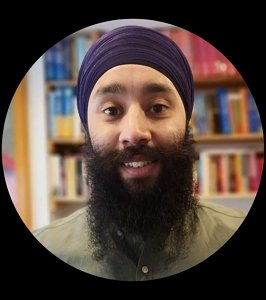 I've always been an avid writer, but this is my first publication in book form. I have been working on a more comprehensive non-fiction book, which is set for release later this year. Whilst researching for that book I found there was next to nothing written on Rani Sada Kaur, which is why I decided to write this short novel.
In terms of previous writing, over the past decade or so, I have written articles for various Sikh platforms in the UK such as the National Sikh Youth Federation (NSYF), Naujawani.com, and Sikh PA, on matters related to Sikh history, ideology and current affairs. I have also written articles for Huff Post UK.
2. What was it about this particular story that spoke to you? Why did you feel compelled to write this one?
There are a handful of books from the mid to late 19 th century such as works by Cunningham, Latif, M'Gregor and Suri that all mention Rani Sada Kaur. They accept she was a fierce warrior and an astute visionary, but we only learn snippets about her life, and some even claim she turned on the Lahore Darbar which led to her imprisonment.
Prominent Sikh writers of that century, such as Rattan Singh Bhangoo and Giani Gian Singh have written very little about her in their voluminous work. We don't really know much and the beauty of a historical novel is that you can build a story around the person that helps accentuate their personality, which really helps bring their story to life.
So that's why I began writing an English adaptation of Giani Trilok Singh's 1953 Panjabi novel, incidentally the only book I found on Rani Sada Kaur which offered an alternative to the mainstream portrayal of Rani Sada Kaur; which of course is rooted in those early British accounts. I've supplemented the storyline by adding more characters and chapters in the hope of creating an engaging read for an English reading audience.
3. Do you feel there has typically been a lack of interest in writing about female Sikh figures? Do you think Rani Sada Kaur has been neglected in history or not given proper emphasis?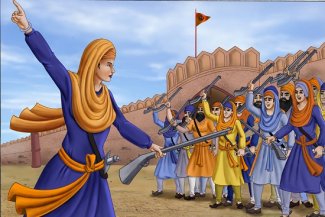 I don't know whether it's a lack of interest, or whether it's simply a case of not knowing. We know the names of great Sikh women, and we know of their actions, but beyond that, generally speaking we don't really know much. In the case of Rani Sada Kaur, my own theory is that she was side-lined by the Lahore Darbar, may be not directly by Ranjit Singh, but certainly by his ministers, and following his death, and the chaos that ensued, perhaps no one felt the need to capture her story.
So, I'm hopeful this short novel, will be the start of many more to come. I was immensely inspired by reading about Rani Sada Kaur, and one of my proof readers – a non-Sikh, non-Panjabi – actually said she had no knowledge about this history and was moved to tears while reading the novel! I took that as a huge compliment but also a reminder of the need to share the stories of our great ancestors with the wider world.
4. Do you think history would have been different without Rani Sada Kaur?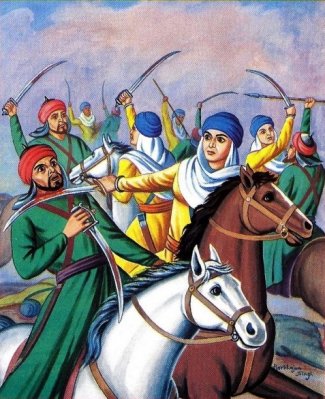 That's a good question. She was instrumental in creating a new political reality in Panjab. While the Misls had previously emerged as a natural progression of the Guru's mandate to pursue and establish political autonomy, we know they also existed to withstand the oppression of Mughal and foreign attacks in which the Sikhs had endured two huge holocausts. The overall objective of the Misls was the same, and their claims to sovereignty were bestowed by the same source; upon capturing power, however, some had lost their way and had begun chasing power for personal and familial aims, at the expense of the Sikh nation's wider political objectives.
This was when Sada Kaur entered the scene and really shook things up. She was a visionary in every sense of the word. It was due to her far-sightedness, that we saw the rise of Ranjit Singh, and the manifestation of the Sikh Empire. Without her, it's difficult to imagine how things would've panned out with the Misls. The British were lurking in the shadows, waiting to pounce, and I feel Sada Kaur's decision to put aside personal grievances – her husband was killed in a battle waged by Ranjit Singh's father, Maha Singh and others – epitomised her desire to establish a prosperous Sikh Raj over all Panjab.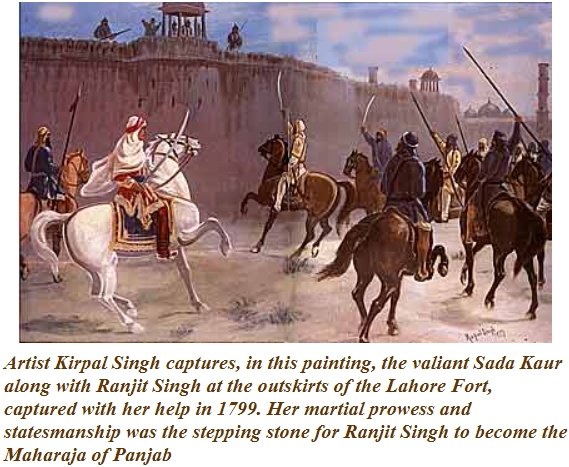 5. What do you want the reader to take away from this book?
I hope the reader feels the same sense of empowerment as I did, when I first read this account of Rani Sada Kaur. She is one of the most remarkable women in the history of Panjab, but her story is largely unknown. It's unfortunate that most of the articles or blogs circulating on the internet today seem to depict one narrative, which is based on those mid-19 th century sources. I hope this portrayal sparks further research into the life of Rani Sada Kaur.
6. When is the book out and where can our readers purchase it?
The book is out on 11 th February, 2021 and pre-orders are now available from the publisher's website - KhalisHouse. In addition to orders from within the UK, we've already received orders from across the States, Canada and Australia, so we're really looking forward to the official launch next month!
Instagram IDs:
Author: @ranveersp
Publisher: @khalishouse