I wouldn't exactly say I am an art enthusiast but if I knew of a place where I was promised an experience of art, history and also how to bring some clarity to my mind, I suddenly become intrigued and enthused. The Journey of the Mind Exhibition at the Library of Birmingham certainly upheld this promise. 
I had some questions and even quiet observations, sharing them with the volunteers that were dotted around the gallery. They were eager to hear my thoughts and so passionate about the art, even more so about the messages behind it! I must admit, that helped my nerves as sometimes galleries can be intimidating, especially if you're not an avid art follower.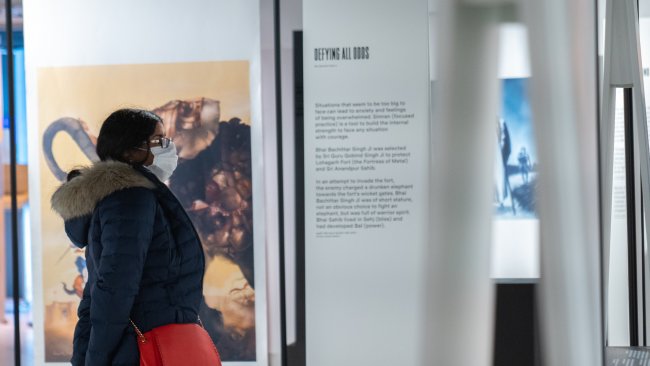 In all honesty I can say this for most museums and exhibitions I have visited.  What I cannot deny is the attention to detail that is applied to every single area, in places like the Tate Modern or the Louvre.  The Journey of the Mind by Without Shape Without Form has created a unique blend of class and comfort.  I felt at home in that environment, the faces of the volunteers were radiant and I had a huge sense of pride knowing that members of my community were able to develop something of such a high calibre.
The end to end journey was wholesome and was an amazing example of collaboration across all ages, all castes, all cultures.  Sikhi is taught to be a universal faith, and I feel this when visiting the Golden Temple and other iconic gurdwaras around the world. I felt that same spine tingling atmosphere within the exhibition.
The artwork by Kanwar Singh is spectacular; being able to convey the rich history of the Sikhs through pictures made it more inspiring. The impact these superhero-esq Gurus had on the world, not just now but at those particular moments of time in history is so impactful and inspiring. 
Each painting provided an excerpt creating vivid imagery, relating the mind and the journey we can all choose to take to be free from thoughts.  Alongside the art, there was a small body of easily digestible text, within it there were excerpts from the Sri Guru Granth Sahib Ji.  I never truly understood what was written within the Sri Guru Granth Sahib Ji, when I would ask questions about it to elders within my family they weren't able to provide clarity either.  However, the simple terms in which this text was written made the excerpts of the Sri Guru Granth Sahib Ji more relatable and the profound message was so clear.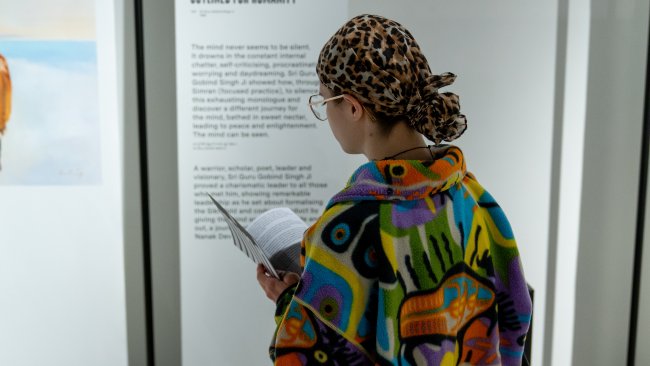 My mind is cluttered to say the least, it's in constant overdrive. Thoughts are in abundance and I struggle to find that peace that the world is so in need of. It feels like no one has a second to spare; no time to spend time with loved ones and no time to spend on themselves. We are consumed by technology, by work, by social media - all these barriers between us and the real connection to the world. We are engrossed in an edited version of life, picture perfect and airbrushed. It may look pretty on the outside but inside it's empty and hollow.