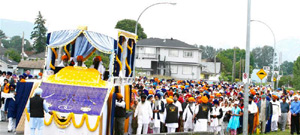 New Westminster, BC, June 21, 2008  - Thousands of Sikhs walked through the streets of New Westminster Saturday as Khalsa Diwan Society held its inaugural "Sikh Day".  The festivities began with a colorful and musical parade fromGurdwara Sahib Sukh Sagar (347 Wood Street) to the New Westminster Community Centre.  The congregation of thousands spread throughout the park where numerous events and exhibitions were held throughout the day, including music, historical seminars, dastar & khalsa dress competitions, sports events, martial arts, discussion groups, and of course lots of Punjabi food.

This year's event was again held to commemorate the martyrdom of the Sikhs' fifth Guru, Sri Guru Arjun Dev Ji.  He was martyred in 1606 by the ruling Mogul empire for defending the rights of the oppressed.  Guru Arjun Dev Ji taught all of humanity many lessons including living a peaceful, spiritual life…yet still standing up for many freedoms that society takes for granted today.

New Westminster's Mayor, Mr. Wayne Wright was in attendance among the crowd, who was impressed by the event and numbers of the Sikh congregation as well as the many non-Sikhs that were enjoying the food and learning about Sikhism.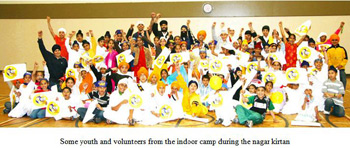 Also at the event were world famous Sikh scholars and musicians such as Bhai Davinder Singh Sodhi, Giyani Ranjit Singh Gohar, Hari Nam Singh Khalsa and Bhai Pritpal Singh Bains among others.

Khalsa Diwan Society, New Westminster looks forward to working towards a brighter future for the public by providing more programs that can bring people and communities together in this wonderful multi-cultural nation we all call home… Canada.

For more information please contact Avtar Singh Gill at 604-729-2000 
| | |
| --- | --- |
|   |   |
|   |   |
| | |
| --- | --- |
|   |   |
| | |
| --- | --- |
|   |   |