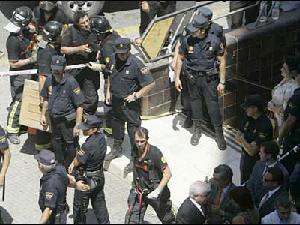 Chandigarh, July 12: A London-based Sikh NRI has secured an apology from the Spanish Police after he was allegedly forced to remove his turban during security checking at an airport in that country.

Jaswant Singh Judge, who was in Chandigarh on Friday, said the incident had occurred on March 12 this year when he and his wife were returning to England after a week-long vacation in Tenerife, Spain.

"We were placing our hand luggage on scanner belt, when we were approached by a security guard who asked me to remove my turban. I explained to him that I am a Sikh and my turban is an integral part of my faith and I am not supposed to take it off. But he called his senior who also insisted on removing the turban," he said.

Judge said that when all attempts to convince them failed and the flight was about to leave, he was left with no alternative other than removing the turban.

He said Lee Scott, MP from Ilford North in London, took up his case with the Spanish embassy and the Interior Ministry of Spain.

The Spanish police has finally apologised to him and issued instructions to consider religious feelings of Sikhs during security check at airports, he said.