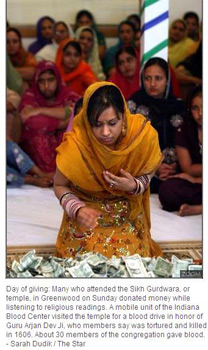 GREENWOOD, Ind. -- Members of Greenwood's Sikh congregation donated blood Sunday with a dual purpose: to help save lives and to honor a religious martyr.
Members of the Gurdwara, or temple, at 1050 S. Graham Road, gave blood to a mobile unit of the Indiana Blood Center in honor of Guru Arjan Dev Ji, who members said was tortured and killed after refusing to convert to Islam in 1606 in Punjab, India.
By donating his body, he became a "supreme divine donor," said Chanchal Singh, 38. Special prayers were held Friday through Sunday at the Gurdwara, and some Sikh members across the country annually donate blood in the guru's honor in June. Sunday's drive was the first for the Greenwood Gurdwara, which opened in 2007 with 400 to 500 members.
When donating blood and honoring the guru, members drink chhabill, a pink, sweetened buttermilk, which Singh said has a calming effect and gives members the energy to pray.
Amarjit Singh, 44, prayed in the guru's honor as he gave blood Sunday, and he hopes those prayers will improve the blood, physically and spiritually.
Many unrelated Sikh men around the world are named Singh, which means lion, Chanchal Singh explained.
Beenu Sikand, 38, a real estate agent who helped found the Greenwood temple, said the majority of its members are truck drivers who came from California. Two other Sikh temples are in Indianapolis, one on Southeastern Avenue, in the Acton area, and the other on Hobart Road, near Beech Grove.
Greenwood Mayor Charles Henderson said the Sikhs have been a welcome addition to the community. He said the Sikh members have brought their culture to Greenwood and have adapted to the community.
He stopped by the blood drive Sunday after going to his own church, First Baptist of Greenwood. Like members of the Sikh congregation, he was asked to cover his hair out of respect. Wearing a bandanna that Sikh members wrapped around his head, the mayor spent an hour chatting and posing for pictures. Sikand said members were eager to meet the mayor.
"This is for a really good cause," Henderson said of the drive.
Sikh members agree. Narinber Singh, 40, said he was glad to "do something good" that he hopes will save lives. Palwinder Singh, 31, said giving blood made him realize everyone is the same, whether Sikh or Christian, black, Indian or white. "Everybody is equal."
Steve Moore, coordinator of the drive for the blood center, said donations have been low across the state and he's glad the Sikh members are helping.
The Indiana Blood Center must collect 550 pints of blood every day, but Moore said the center has had trouble reaching that number. He said one pint of blood can save three lives, but only 5 percent of the population gives blood.
About 30 Sikh members gave blood Sunday, maxing out the bloodmobile's capacity. Moore said that's rare, and he wants to bring two bloodmobiles next year.
"I wish we had more people like this," he said.
By Chris Sikich
Call Star reporter Chris Sikich at (317) 444-5545