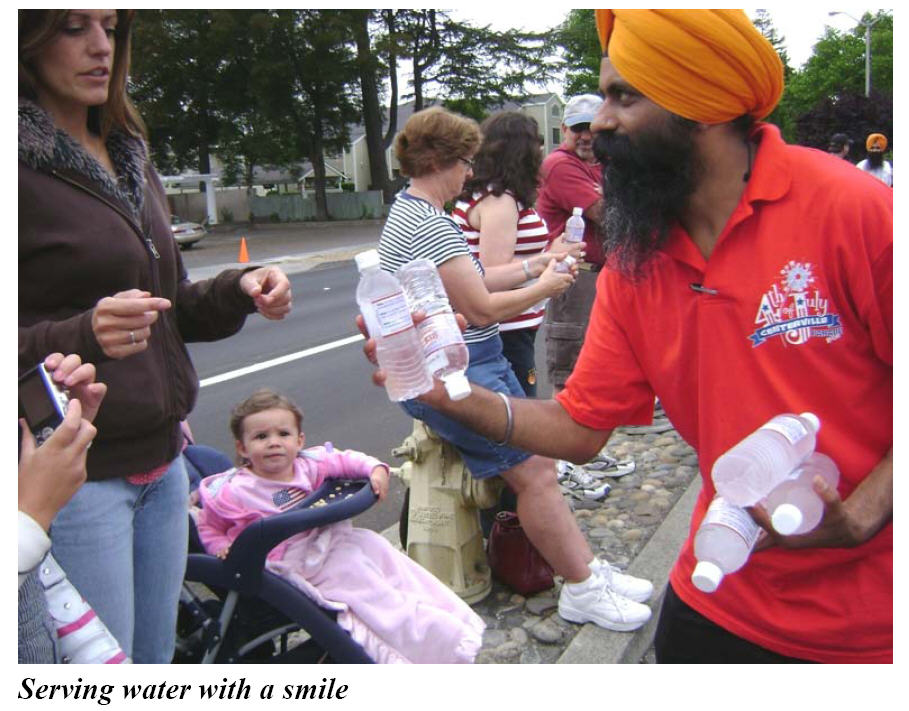 Fremont, CA – This year's 4th July parade was celebrated by residents of Fremont, Newark and Union City with pomp and pride as usual. This tri-city area has a significant population of Sikhs. A small civic-minded Sikh organization named S.E.V.A. (Sikhs Engaged in Volunteer Activities) has been participating in the 4th July celebrations under the banner of Sikh Community of Bay Area for the last several years. Its members prepare a Sikh-American themed float each year and participate in the parade. They also serve thousands of bottles of free chilled water alongside the parade route. This year they served nearly 7500 bottles of water despite the cloudy morning. Each water bottle was custom branded with a few facts about Sikhism printed on it. S.E.V.A members set up eight water serving stations alongside the one-mile long parade route and more than sixty of them worked tirelessly for five hours on stocking each station, handing out water bottles to their fellow citizens and cleaning up at the end. A day before, several members spent long hours working on designing and decorating the float.

The larger community and parade organizers appreciate and recognize the spirit of selfless service exhibited by S.E.V.A. members. Each year the parade organizers have offered to share the cost of water distribution with S.E.V.A. but its members have been declining it politely. Instead, they have been requesting the organizers to allow them to serve free water next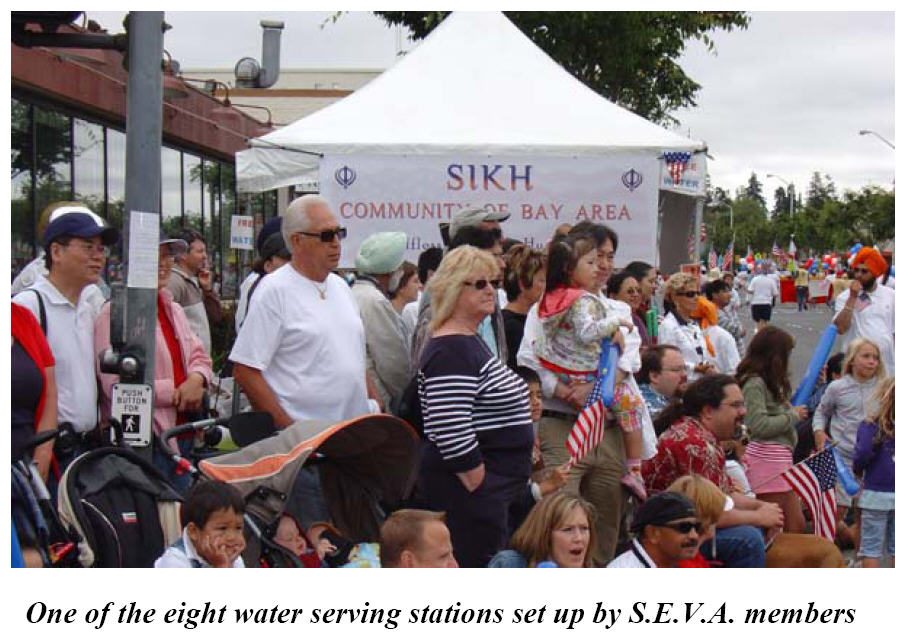 year.

You may wonder why S.E.V.A. members took on this project. Initially, they started it as a bold move to dispel misconceptions about the Sikh identity but now they participate in the parade out of sheer joy.  Each year they look forward to 4th July celebrations with enthusiasm. They truly enjoy mingling with their neighbors and receiving expressions of gratitude and appreciation from them. They receive hundreds of verbal accolades from fellow Americans each year.
This year's best one came from a Fremont resident who approached one of the S.E.V.A. members and said, "I can't believe. You guys don't look like typical Americans and you are distributing so much free water. Over there we have American clubs that are selling water. Thank you so much for doing this."

This year's Sikh-American themed float had Sikh children singing patriotic songs with classical keertani instruments. The float received applause and cheers from the spectators all along the parade route. It also won People's Choice award at the end. A total of 85 floats participated in the parade and over 15,000 people lined up alongside the parade route to enjoy the festivities.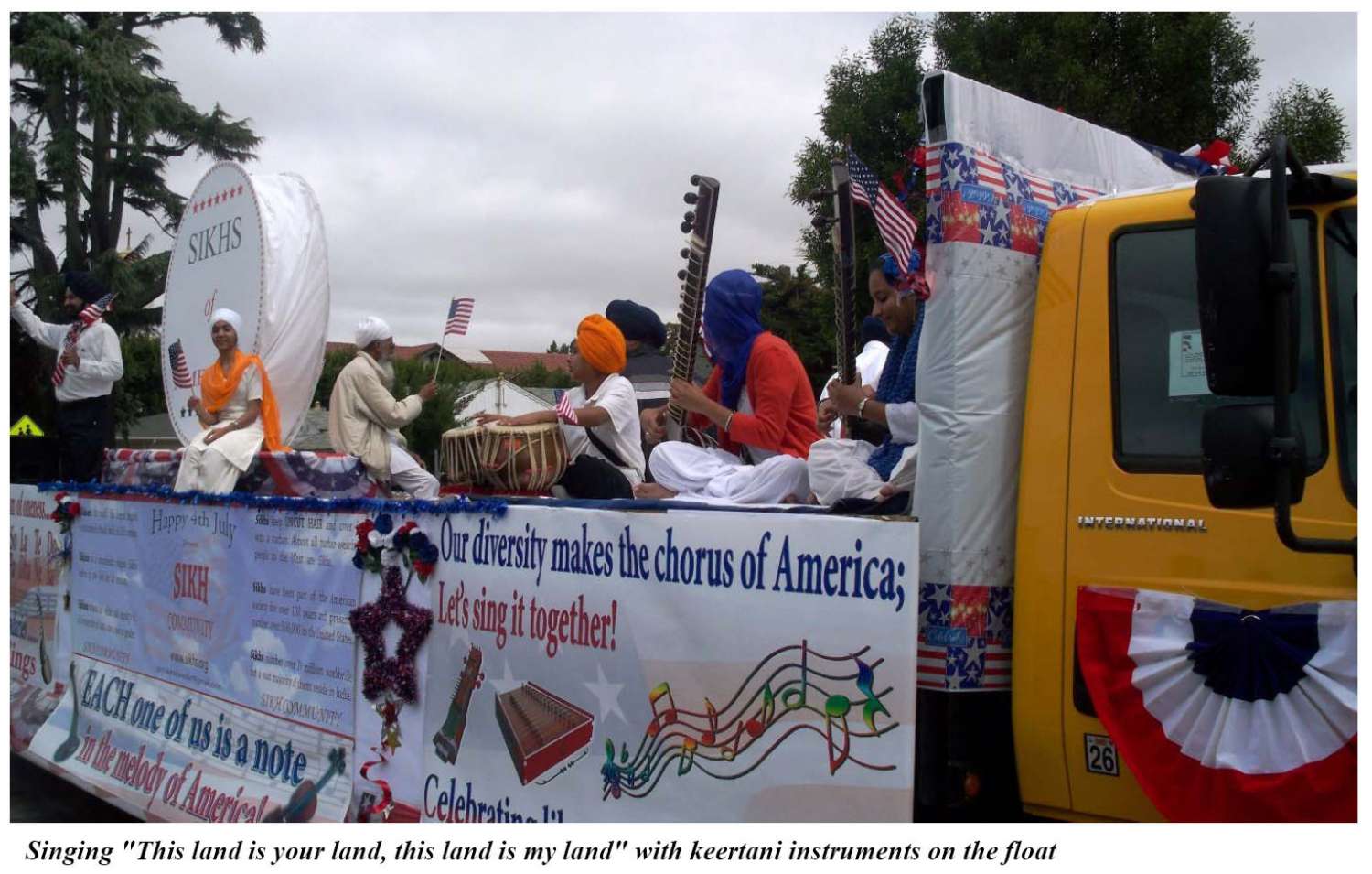 Another Sikh attraction at this year's parade was a contingent of "Gatka" masters who participated in the parade under the banner of Sikh Saint Soldiers.

S.E.V.A. is based in Fremont. Most of its members came together after September 11, 2001. They operate in civic and inter-faith spheres at grass-roots level. Their efforts are helping them build strong bridges with the larger community. They encourage other Sikh organizations and community activists to participate in 4th July celebrations in their respective cities.

Any questions related to this can be sent to [email protected]

S.E.V.A. members would love to help any other organization start similar efforts.