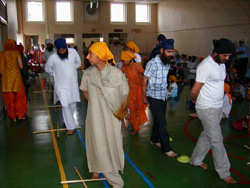 As part of the Dutch Sikh community's efforts in propagating Gurmat awareness, a Gatka and Gurmat camp was held on 26-27 July 2008 at Sri Guru Nanak Gurudwara in Rotterdam. Organization of the camp was undertaken by Sikh Society, Netherlands, Bhai Boota Singh, Bhai Amardeep Singh and Bhai Lakhwinder Singh from United Kingdom, with the support of the Rotterdam Gurudwara Committee. Approximately 110 participants of ages ranging from five to sixty came from The Netherlands and Belgium.

The camp started at around 12.30 pm on Saturday 26 July with Gyani Kaptaan Singh doing Ardaas and Bhai Amardeep Singh Ji explaining the objectives of the camp which were to understand importance of the Guru's word -Gurbani and the Sikh martial arts, Gatka. Bhai Amardeep Singh ji emphasized that the two go hand in hand and that Gurbani plays a very important role when learning Gatka. Bhai Boota Singh proceeded to show a video of the basic Gatka steps that would be taught in the camp.
The Sangat was then split into three groups, which were each supervised by four sewadaars. Participants learnt the basic moves of Gatka. These are the Phentra (...), which is the basic hand and foot movement in Gatka, and the Parkarma (,,,), where a warrior approaches his own weapon or Shastar. An hour's training under the guidance of the sewadaars ended with a mini-competition between the three groups. Participants were enthused by the challenge of hand-leg coordination in Gatka.

The physical activity was followed by a 'Fun Sikhi Class' led by Lakhvinder Singh (UK) for kids where they could clear their basic doubts about Sikhi like where is God, basic principles of Sikhi etc. This was followed by Kirtan and Rehraas Sahib Paath, where Bhai Amardeep and Bhai Boota explained the importance of a Sikh being able to live in Maya or wealth and yet resist its distractions, while striving for his / her spiritual union with God. The interaction among camp participants and organizers reached its peak during a 'Question & Answer' session, where issues regarding Hair, importance of religion in western world, Nitnem and other topics were clarified by camp participants. The camp organizers had to disappoint eager participants by concluding the day's programme after 1.5 hours of Q&A.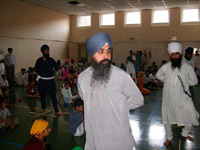 The next day's programme started with Nitnem, Asa Di Var, followed by the Gurudwara's regular Sunday Kirtan. Bhai Amardeep Singh held another talk on the importance of understanding and practicing Gurbani in order to achieve spiritual union with God. Another Gatka session was held thereafter, as parents proudly watched their children practice further Gatka movements, such as the Snake movement. Camp sewadaars sang shabads / simran while the children practiced, so as to emphasize the importance of a Sikh having to constantly remember God before and during battle. A literature stand was set up on the initiative of Bhai Mahinder Singh Khalsa of Belgium, attracting the curiosity of some Sangat. The camp concluded with a presentation of certificates to participants by Bhai Amardeep Singh and a Jaikara for each participant's efforts towards the success of the camp.
Many participants were appreciative of the organizational success of the camp and voiced their support towards organizing another one in the recent future. Efforts will also be made towards organizing regular Gatka classes, so that Bhai Boota and Bhai Amardeep may teach more advanced moves during their next visit to the Netherlands.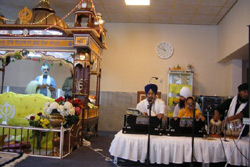 Special thanks go to Rotterdam Gurudwara Committee, Rotterdam Sangat and Bhai Amardeep Singh, Bhai Boota Singh and Bhai Lakhwinder Singh of United Kingdom for their sincere and capable efforts towards the success of this event. With God's Grace, the efforts of The Sikh Society, Netherlands do not stop here. Further events will be organized in the coming months.

Sikh Society, Netherlands is a non -partisan, non-political human development organization which works closely with other organizations and Gurudwaras in Netherlands on issues of common interest to Sikhs and other minorities and focuses on issues of awareness through education and well-being of the whole of humankind as stated in the Sikh Daily prayer - "Sarbat Daa Bhalla (Welfare for all.)"


Contact the Sikh Society, Netherlands at: [email protected]