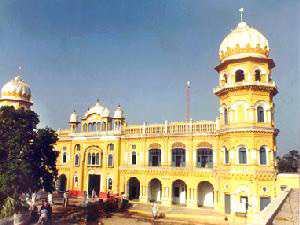 LAHORE: Around 1,000 Sikh pilgrims are due to reach Pakistan today to attend 402nd death anniversary of Guru Arjun Dev Jee, said Evacuee Trust Property Board (ETPB) Deputy Director Faraz Abbas.

Abbas said that Sikhs would visit their religious places during their 10-day stay in Pakistan.

"Prominent Sikh personalities, including former Pakistan Sikh Gurdwara Perbhandak Committee (PSGPC) president Sardar Bishon Singh and member Sardar Sham Singh will welcome the pilgrims at Wagha Railway Station," he said.

He said that the PSGPC members had always accorded the Sikh pilgrims a traditional welcome in the past, but will be absent from the welcome ceremony this time.

"The PSGPC was dissolved in December 31, 2007, after completion of its tenure, but a new committee has yet to be announced," he said.

He said that the PSGPC was responsible for arranging food and accommodation for the Sikh pilgrims, as non-Sikhs were not allowed to manage Sikhs affairs. "The pilgrims will visit their religious places at Hassanabdal, Nankana Sahib, Farooqabad and Lahore during their stay in Pakistan," the official said.

The main function of Guru Arjun Dev Jee would be held on June 16 in Lahore and all the pilgrims would return to India on June 17, he said.

The delegation of Indian Sikhs visiting Pakistan has reportedly demanded of the Pakistan government to make all gurudwaras in the country functional, give more authority to the Pakistan Sikh Gurdwara Perbhandak Committee (PSGPC), and open visa sections in Lahore and Amritsar to ease travel for the Sikhs.

Hundreds of gurdwaras were non-functional in Pakistan, said Raghbir Singh Saharnmajra, a Shrumani Gurdwara Perbhandak Committee (SGPC) member who is leading the delegation.

Caretakers and sewadars should be appointed at gurdwaras at far-flung areas to bring them into the mainstream, the Daily Times quoted him as saying while talking to reporters at the Wagha Railway Station.

Land should be provided to build a 400-room complex to house visiting pilgrims in Lahore, he said and added: We have been demanding the Pakistan government for land for the past two years." He further said that the SGPC would bear the cost of the building.

PSGPC was the supreme body of Sikhs all over the world, he said added: "We want to see PSGPC as the most powerful and independent representative committee of Sikhs in Pakistan.

Praising the PSGPC for renovating the gurdwaras in Pakistan, he said that PSGPC members should be chosen through elections and legislation should be made in the regard. In India SGPC members were elected through an act of parliament and a similar process should be followed in Pakistan, he added.

Visa sections should be opened in Lahore and Amritsar to ease travel between the two countries, he said.