"This is a great day for New York City's school children. We expect our schools to be free of bias-based bullying, and today's announcement will help us achieve that goal.  During the course of creating this new regulation, the Sikh Coalition and its allies...played a crucial role.  We look forward to continuing to partner with community organizations to make our schools safe places to learn." --Chancellor of Schools, Joel Klein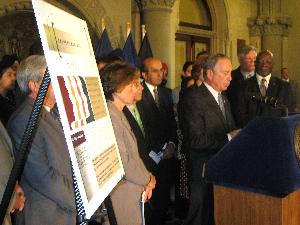 (New York, NY) September 3, 2008 -  Wednesday morning at a press conference at the Department of Education Headquarters, Mayor Bloomberg and Chancellor of Schools, Joel Klein, along with the Sikh Coalition and other community organizations, announced the creation of a historic new Chancellor's Regulation that defines, tracks, and aims to prevent bias-based harassment in NYC public schools.  After over a year of urging the DOE to implement such a regulation, the Sikh Coalition applauds the Chancellor and Mayor for taking this very important step in making NYC's schools free of harassment for not only Sikh students but all students.
 
What will the new regulation do?
The new regulation, A-832, "establishes a procedure for the filing, investigation, and resolution of complaints of student-to-student bias-based harassment, intimidation, and/or bullying."  Highlights of the regulation include:
A clear and comprehensive definition and prohibition of bias-based harassment based on a student's actual or perceived race, color, creed, ethnicity, national origin, citizenship/immigration status, religion, gender, gender identity, gender expression, sexual orientation or disability.
A clear reporting procedure in which each school city-wide must have a designated staff point person to whom reports of bias-based harassment can be made.  Students can also report harassment by emailing complaints to the Office of School and Youth Development as well.

Prompt investigation of a report of bias-based harassment as well as entering the incident into a central database within 24 hours.
A written report for the alleged victim of the results of any incident investigation within 10 days. In addition to disciplinary action (based on the DOE's Discipline Code), follow up intervention methods such as counseling and sensitivity training; and training on bias-based harassment and the  "Respect for All" diversity training to all students and staff annually.

It was also announced that the DOE will publish annual public reports on bias-based harassment in schools, including information about individual schools.  This will allow the kind of transparency that community members and organizations need in order to know where we need to focus our work.
 
The Need for the New Regulation
The urgent need for the new regulation stemmed from the high number of Sikh students being harassed and bullied in NYC schools.  Most recently in June 2008, two Sikh students were attacked in Queens schools.  On June 9, Gurprit Kaur, a student at P.S. 219 in Flushing discovered that another student had cut off a portion of her religiously-mandated uncut hair and discarded it.  On June 3, Jagmohan Singh Premi was punched in the face after a student intentionally attempted to remove his patka (smaller turban) at Richmond Hill High School.  In addition, in May 2007 Harpal Singh's hair was forcibly cut by another student in a hate crime in another Queens public school.
 
This past April, the Sikh Coalition released a civil rights report, "Making Our Voices Heard: A Civil Rights Agenda for New York City Sikhs,"  which found that more than 60% of over 400 Sikh students that the Coalition surveyed had suffered bias-based harassment or violence in city schools because of their Sikh identity.
"The amount of Sikh children being harassed and bullied in New York City's schools every day is nothing less than an epidemic," stated Amardeep Singh, Executive Director of the Sikh Coalition.  "Sikhs took to the streets in June in Richmond Hill to urge the Department of Education to make this issue a much higher priority and take proactive steps to make NYC's schools free of bigotry.  We are heartened by the creation of this much needed new regulation.  It is in large part the Sikh community's activism that led to the creation of this new regulation to enhance the lives of 1.1 million city school students."
The Coalition would also like to recognize and thank the partner organizations who worked with us in the last year to make this regulation a reality:  the Asian American Legal Defense and Education Fund (AALDEF), the Coalition of Asian American Children and Families (CACF), New York Civil Liberties Union (NYCLU), and the New York Association for Gender Rights Advocates (NYAGRA).  We would also like to thank City Councilmember John Liu for his ongoing support and his commitment to combating bias-based harassment in schools.
 
Moving forward
"While this new regulation is an important step, it is only half the battle," stated Sikh Coalition Community Organizer, Sonny Singh. 
"Now we must monitor the DOE and city schools to make sure this regulation is being properly implemented so that it is truly making a difference for the average Sikh student, the average gay student, and the average immigrant student.  The Sikh Coalition and our allies will have to be a watchdog on bias and bigotry in schools."
 
"I hope this new policy means that other students won't have to go through what I went through," stated Jagmohan Singh Premi, who was violently attacked on June 3, 2008 at Richmond Hill High school after almost a year of daily bias-based bullying.  "Sikh students should feel safe in their schools." 
Power concedes nothing without a demand. It never has and it never will.

- Frederick Douglas