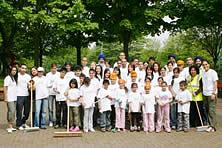 Sandwell Council has joined forces with global charity Sikhcess to help with a community clean up in Smethwick.
Volunteers help spruce up Smethwick High Street's pigeon feeding area More than 50 volunteers of all ages helped clear the pigeon feeding area in Smethwick High Street of litter, removed graffiti and gave the benches a new lick of paint.

Shop owners on the High Street were so impressed with the volunteers efforts that they donated food and drink to them.

A local ice cream van owner also provided volunteers with a well-deserved ice cream to enjoy in the sunshine once the job was done.

Sandwell Council's cabinet member for neighbourhoods and housing Cllr Mahboob Hussain said: "It's great to see the community getting involved like this and really embracing the idea of the pigeon feeding area."

Manpreet Kaur, Sikhcess's national coordinator said: 'We wanted to do a community clean up with a difference and this small area on the High Street is heavily used by local people especially the elderly.

"It serves an important social function in this area. We just wanted to brighten it up so people could enjoy using the area more especially as summer is looming."

This is just one of the community-based projects Sikhcess has been involved with in the UK. The charity's next challenge hopes to provide the homeless with hygiene packs in June as part of their Packages of Love campaign.

Sandwell Council will continue to support residents who wish to litter pick in their local area. Please call 0121 569 2366 for further information.