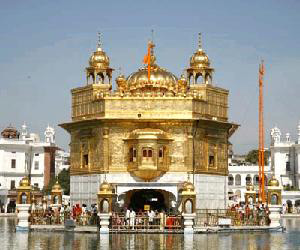 Amritsar, May 29 (IANS)
Pushed on the back-foot, the Shiromani Gurudwara Prabandhak Committee (SGPC) is defending its decision to provide air-conditioned comfort in the holiest of Sikh shrines - the Harmandar Sahib, popularly called the Golden Temple, here. The SGPC - the mini-parliament of Sikh religion that manages gurudwaras in Punjab - has got two four-tonne air-conditioners installed inside the sanctum sanctorum this week for the comfort of millions of devotees who come here. However, conservationists and religious leaders have objected to the move.

Though the air-conditioning unit itself is installed just outside the gold-sheeted building, the pillar-type ACs have been installed where the living Sikh guru - Granth Sahib (the holy book of Sikhs) - is kept.

"The raagis (hymn singers) complained of sweltering heat and humidity inside the shrine during peak summer months when they performed for three to four hours. That's why we installed these. We have taken the opinion of conservation experts," SGPC president Avtar Singh Makkar said.

The controversy over installation of the ACs inside the sanctum sanctorum started in May last year when Surinder Kaur Badal, wife of Punjab Chief Minister Parkash Singh Badal, first moved the proposal.

The SGPC and Makkar, who are dominated by the ruling Akali Dal leadership, especially the Badal family, got down to getting the ACs installed despite stiff opposition from Sikh scholars, conservationists, religious leaders and others.

"This move is not appropriate. There is no need for the ACs inside the holy shrine. It is an ill-conceived idea," former SGPC secretary Manjit Singh Calcutta said.

Makkar defended the decision saying it was not done at the behest of Surinder Kaur.

Several conservationists, including Gurmit Rai, have objected to the installation of the ACs, saying that these will damage the building that is over 400 years old.

"This will cause colossal structural damage to the building which is made of burnt bricks and lime mortar. The building is supposed to keep heat away," a noted Sikh scholar told IANS on condition of anonymity.

Conservationists say the paintings and other age-old decorations inside the sanctum sanctorum will be damaged by the temperature changes because of the ACs.

The Harmandar Sahib was built by fifth Sikh guru Arjan Dev. Its foundation was laid by famous Muslim saint Mian Mir in January 1589. The Adi Granth - a holy scripture of the Sikhs, was installed here by the guru in 1604.

Though many Sikh gurudwaras now have ACs, Sikh scholars and conservationists say the religious sanctity of the Golden Temple should have been maintained by not installing the ACs since it is a heritage building.

"Devotees spend just a couple of minutes inside the shrine. The raagis should not look for comfort. It's a privilege for them to be performing at this holy shrine. The SGPC is not justified in this action," said local shopkeeper Balbir Singh.