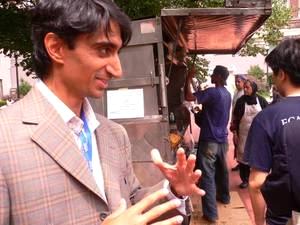 Washington D.C. June 12, (ANI): The Sikh Council on Religion and Education (SCORE) organized an Award ceremony on Wednesday to honour Sikhs from across America.

Over 30 elected representatives of the U.S. Congress participated in the grand function apart from nearly 300 guests from across America.

On this occasion, SCORE honoured a few Sikhs for their contribution to the American life in art, science, education and business.

SCORE's annual Capitol Hill Dinner enables Sikh-Americans to gather in Washington DC to celebrate and honour those who have promoted a positive Sikh presence as part of the American cultural fabric.
Arun Venugopal wins MHA prize for radio reporting
 Through SCORE, the Sikh leaders residing in the U.S have created a platform to display their contribution to the American society. They also want the government agencies in the United States to adopt policies for the welfare and uplift of the Sikh community.

On this occasion, Dr. Rajewant, the Chairman of Sikh Council on Religion and Education (SCORE), said: " We have never earlier showed our political clout. This is just a beginning because we can easily bring over 40 Congressmen under one roof to support the Sikh cause."
Harpreet Singh Sandh from San Fransico underlined that after the tragic event of 9/11 (September 11) there have been attacks against members of the Punjabi community due to mistaken identity. He says it is good that SCORE has raised the issues with the Senators and U.S. Congressmen.
While accepting that incidents of hate crime are still being committed against Sikhs due to mistaken identity, Mike Honda, a U.S. Congressman said that there was a need to minimise the hate crime incidents by educating public about Sikhs and Sikhism. Functions like the one being organized, contribute in making people aware about the Sikhs.
During the 5th Sikh American heritage dinner, the SCORE honoured many Sikhs including Sandeep Singh Caberwal, a Sikh entrepreneur and a model and the talented duo of Ms. Tami Yeager and Preetmohan Singh for their recently completed film documentary "A Dream in Doubt."
The film explores the real life story of one Rana Singh Sodhi's family, whose brother was murdered as the first hate crime victim in the 9/11 aftermath. Balbir Singh Sodhi was killed in Mesa, Arizona in an incident related to mistaken Sikh identity.
"A Dream in Doubt" was recently aired on the Public Broadcasting System, nationwide as part of the "Independent Lens" television show.
Prominent among those who were honoured at the dinner were Darshpreet Singh, a basketball player and Jagjit Singh Khalsa who manages activities and resources of domestic and international research on medical / health consequences of drug abuse. By Ravinder Singh Robin (ANI)