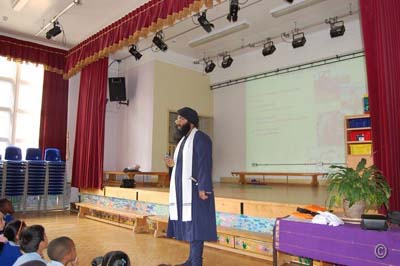 Today Veer Ravjeet Singh was invited to a primary school in London to share knowledge of Sikhi with the students and staff. The day started off with the morning assembly in which Ravjeet Singh gave a 15 minute introduction to who Sikhs are, where they come from, and why they look different (using visuals from a powerpoint). 

The caretaker for the school also heard the talk in the assembly. He was very interested by Sikhi. Afterwards he approached Veer Ravjeet Singh and requested him to tie a Dastaar on his head. Only having material for small dastaars (keskis) he tied a small dastaar on his head. The caretaker was really impressed and happy at the fact he had a dastaar on his head. However, he said, "You are wearing two turbans. A small one, which is covered with a big one. Can you please tie the big turban on my head as well." Waheguru. Ravjeet Singh didn't have any large dastaar material but used the small dastaar material to tie a second dastaar over the keski. Waheguru. The caretaker was very happy. Amazing to see such enthusiasm and pyaar for Sikhi Saroop from non-Sikhs.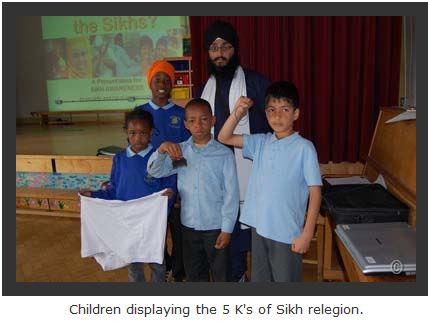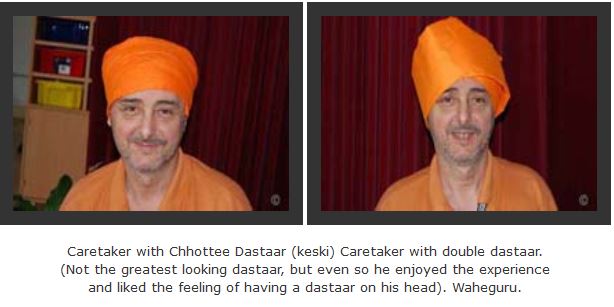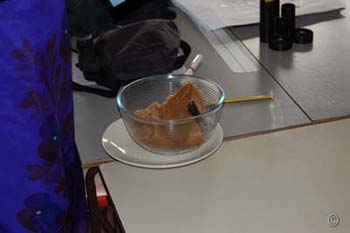 During the day, Ravjeet Singh rotated between three classes and spent an hour with each class. He started off with re-capping the information given in the assembly, e.g. where Sikhs come from, what are the 5 Ks etc. Afterwards he talked about the basic Sikh principles, lifestyle, main festivals and about Harmandir Sahib (Golden Temple). The children afterwards asked questions. One boy pointed to the photo of Harmandir Sahib (on the screen) and asked, "Why is the Golden Temple called Golden Temple?"

At the end of the class sessions Veer jee distributed Karhaah (not parshaad) to show to the children what Karhaah Parshaad would taste like in the Gurdwara. All the children enjoyed the Karhaah. Some children didn't eat the Karhaah because they were Muslims or Christians and felt uncomfortable eating it. However, seeing the rest of children ask for seconds, thirds and more helpings, they decided to eat some and enjoyed it.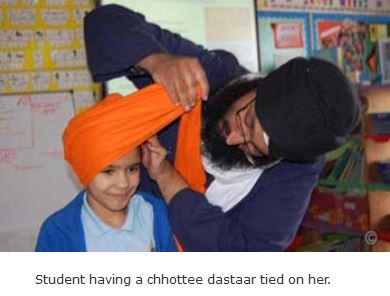 Children were also given the opportunity to have a chhottee Dastaar tied on them. The Dastaar demonstrations were very popular with the children.
I hope that in sharing this information and photographs others will get some ideas of how they can promote awareness of Sikhi in their local schools and colleges. You don't have to make it really complicated. Today's Sikh Awareness Day at this school shows that a simple talk, answering children's questions, sharing some food and tying Dastaars on children (in a fun and interactive way) can help to share understanding of who Sikhs and clear ignorance, prejudices and misconceptions.

If anyone would like a copy of the short Powerpoint Presentation on "Introduction to the Sikhs" then you can download it here.

Dhan Hai Guru, Dhan Hai Teree Sikhee