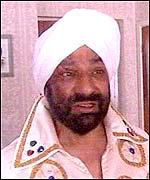 LAHORE - Peter Singh - The Rocking Sikh - is visiting Lahore these days to visit the holy places of Sikhs and to explore the potential of sharing music projects with the local artistes here.

Peter Singh (Narminder Singh) is the world's only Sikh Elvis impersonator. But he has gone beyond singing the songs of King of Rock n Roll, coming up with his own songs in his style. His album "Rock n Roll - East meets West" has found worldwide appeal and he has gone around more than eight countries including USA, China, Australia and India holding concerts to present his unique music. The album songs "Rocking with the Sikh", "Bhindi Bhaji Boogie", "Pick your Turban", "Blue suede shoes", "Living Doll", "Elvis I am on the phone" and "Turban over Memphis" are all in the style of Elvis Presley but flavoured with oriental touches.

Peter Singh was born in Rawalpindi in 1946. His family after going to India at the time of partition moved to Birmingham in 1955. He re-located to Swansea and eventually opened a curry house but his desire to follow his hero 'The King' remained. In 1980 he took to the road along with his troupe slowly building up a steady following. He is visiting Pakistan for the first time and for him the visit is like going back to his roots.

Talking to The Nation on Friday evening 62-year-old an excited Peter said it was great to be in Pakistan especially in Lahore.

"People here have showered me with respect and I am looking forward to do live concerts across the country. People are very friendly and it is amazing how well they treat the visitors.

"It had always been my desire to visit the place of my birth. I have visited Nankana Sahib, Panja Sahib, Dera Sahib and many other gurdawaras", the singer said.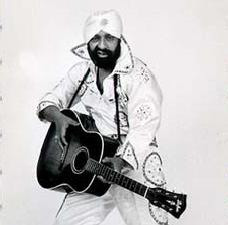 As the old saying goes "when in Rome do as the Romans do" and Narinder Singh adapted by adding "Peter" to his name. Peter performs in full Elvis Presley gear wearing the white outfit with the big Elvis belt that few of his have. He is here with the outfit as he will be performing in India after the visit here. He is leaving for Amritsar on Tuesday.

He said he would now be going to Amritsar to visit the Golden Temple. "After paying my tributes at the Golden Temple I plan to hold some concerts in the Indian Punjab. From there I would go back to UK. I would return to Pakistan for complete the projects I have planned with Jassi Singh, who is a great singer. Together we plan to storm the Pakistan music industry with our upbeat and melodious numbers," Singh maintained.

Jassi Singh popularly known as Jassi Lyallpuria has been on the Pakistan music for some time. He sings in concerts and functions across the city singing his own compositions steeped in pure bhangra tradition. Peter will team up with Jassi for his next song "mon it's Christmas". "I am going to record the song again in Lahore and make its video with local Christmas celebration scenes. It will be more appealing," Peter was of the view.

 "The lyrics of my hit song are like this "I don't smoke dope, I don't drink bourbon. All I want to do is shake my turban". This song became a big hit and everywhere I went people recognised me.

-By Emanuel Sarfraz