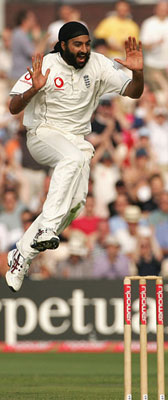 There is none of Ronaldo's arrogance, Pietersen's swagger or Beckham's bling.

England bowler Monty (Mudhsuden) Singh Panesar avoids the limelight like one of his spin deliveries swerves an opponent's bat.

Recently, during an interview, he managed to look back on England's recent test series against South Africa and look forward to the next Ashes series with equal praise for his deposed captain, Michael Vaughan, and new captain, Kevin Pietersen.

He ducked questions on the contentious Champions Trophy in Pakistan next month and padded away queries about the hotly disputed Indian Premier League and the big money flooding into cricket.

He doesn't drink, doesn't swear, doesn't sport tattoos or dye his hair, doesn't gamble, doesn't drive flash cars and keeps his private life to himself.

Yet he's a cult figure for cricket fans.

The Barmy Army of England supporters love him for his eccentric celebrations, his fielding foul-ups and his passion.

They love him because he's one of them - a hard-working, honest lad from a council estate who's living their dream by sheer hard work.

The first Sikh to play cricket for England, Monty, 26, is more than just an example to British Asians.

He's an example to any youngster faced with obstacles to their ambitions in Broken Britain today.

Yesterday he had these words for them: "If you really have a genuine passion for something, then don't let anything get in the way."

"Give it your all, especially if you are young."

"There are other things you can catch up with later in your life, but know yourself and who you are and if something is important to you, stick at it".

What was important to Monty when he was growing up was his desire to someday play cricket for his country.

He said: "When I first wanted to play cricket for England, I didn't think about being the first Sikh to do so."

"I just wanted to play cricket for England."

"At first, it wasn't a dream that looked like coming true".

On the plus side, he didn't have the handicap of a broken family, or growing up in an area of racism.

His dad, a builder, and mum, who works in a clothes factory, brought him up with his two younger siblings in a simple terraced house in Luton, England, and he was a popular boy at Stopsley High, the local comprehensive.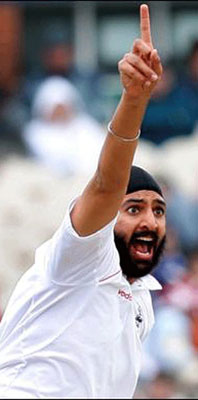 But the young Monty was not an obvious athlete.

He was flat-footed, gangly, and his clumsiness led schoolmates to call him Edward Scissorhands.

That wasn't going to stop him. His dad was pals with the youth coach at Luton Town & Indians Cricket Club, so Monty got stuck in.

He says: "Sunday mornings I did not feel like getting up, but I would."

"I can remember running round the local authority cricket pitch."

"Whatever opportunities you are given, you should take them and I went there, had fun and my interest grew".

He wanted to be a fast bowler, but by the time he was 15, it was clear he was not going to set the world alight with his pace.

So he changed to spin bowling because he hoped it would give him a better chance of making progress.

The fact that he couldn't get the hang of it at first did not stop him.

"It became an obsession", he said.

"I used to bowl for hours on end to try to get it right".

Monty has taken part in several sporting initiatives to help inner-city youngsters in his native Luton and elsewhere.

Even now that he is an established part of the England team, modest Monty looks slightly awkward with his cult status and insists he is still working every day on the weaker parts of his game.

But he adds: "In a way, if people get energy and inspiration from the enthusiastic way I celebrate taking a wicket, then that motivates me".

He also recognises the thrill youngsters get when he and other celebrity sportsmen go to their neighbourhoods.

He said: "Signing autographs and seeing the smiles on kids' faces is a really nice feeling".



He would love to see other kids from ordinary backgrounds find the drive and enthusiasm that he did, stressing: "The passion and the dedication, the sacrifices you have to make to get to that level, it gives you a sense of achievement inside".


Monty is celebrating the launch of a brand new flavour of Walkers crisps named in his honour - chilli and tomato chutney-flavoured Magic Monty's Spicy Spinners.


The bag boasts they are "so hot they'll bowl you over".

The cricket star, with his giant hands, struggles to pluck a crisp from the small packet.

He may be too big for his own snack, but Monty is one sports superstar who is in no danger of becoming too big for his boots.