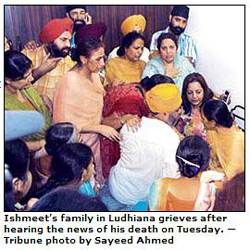 Ludhiana, July 29 - City residents who had cheered Ishmeet Singh as Voice of India today were in deep grief as the news of his tragic death in the Maldives, by drowning in the sea, reached here late evening. Ludhianvis literally wept at the untimely death of their hero.

The 19-year-old singer from Punjab had arrived at Male on the morning of June 29, to perform at a promotional event to be held on August 1.

Apart from friends, relatives and fans, scores of residents rushed to his house in Model Gram to offer condolences to the parents of the 19-year-old singing sensation. People in disbelief were glued to TV sets when the channels flashed the news.

His father Gurpinder Singh Sodhi and mother Amritpal Kaur were shocked. Huddled in an inner room of their house, they were inconsolable even as a stream of visitors offered their condolences.

His mother and elder sister required medical assistance as they fell unconscious. His father said Ishmeet did not know swimming.

All his young friends were crying in one corner or the other of the house. Visitors broke down when they tried to console them.

Ishmeet had enthralled city doctors just two days ago at a function in DMC hospital. His fans, young and aged, had flocked to seek his autograph. No one had thought that it was his last performance in the city. He had said he would soon return for many functions, but destiny had other plans.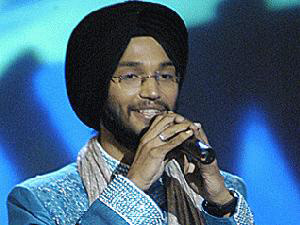 It may be recalled that Ishmeet was among the top two finalists on Amul Star Voice of India and was crowned the winner on November 24, 2007, beating Harshit Saxena. He was also one of the contestants of Jo Jeeta Wohi Superstar, a singing reality show on Star Plus and represented the Champions team. He was eliminated on June 20, 2008.

Lata Mangeshkar, whom Ishmeet and Harshit had met as contestants and who gave away the winner's trophy, recalled Ishmeet as a sweet fellow. She said, "I feel very sad. He'd come to meet me, sang for me, and I had nudged him to pay a little more attention to classical training. He'd told me, 'Mein ek din aapko bahot bada ban ke dikhaoonga' (one day I'll make a big name for myself)," Lata told a TV channel.

Farah Khan, judge on Jo Jeeta Wohi Superstar , said, "He was a gentleman, never saying anything bad about any contestant. Once I was having a late dinner in the studio and he sat beside me, sharing my food. He told me, 'You have so many fans. I'd never thought I would one day eat sitting side by side with you.' I still can't believe he's dead."

Playback singers Abhijeet and Alka Yagnik, who are also judges on music reality shows, have expressed shock at Ishmeet's death. "It's shocking. It's a cruel thing that has happened to him. I still can't believe it," said Yagnik.

Ishmeet's mother sadly recalled that she wanted her 'Bablu beta' to become a CA. She also informed that he used to hate water as a kid.

The Delhi Sikh Gurdwara Management Committee has decided to keep all its schools closed tomorrow as a mark of respect to Ishmeet Singh.

Talking to The Tribune, DSGMC president Paramjit Singh Sarna said the death of Pride of India in such tragic circumstances had come as a shock not only to the Punjabi community but had sent shock waves throughout the world.

Sarna demanded an inquiry into the drowning accident. Meanwhile, Punjab Chief Minister Parkash Singh Badal expressed grief and sorrow over the demise of Voice of India Ishmeet Singh. Badal said Ishmeet Singh would be long remembered as he did proud not only Punjab alone but also the entire nation.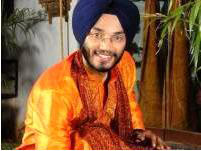 SAD president Sukhbir Singh Badal and public relations minister Bikram Singh Majithia also mourned his death.

Ishmeet's death plunged the music world into mourning and leading playback singers Lata Mangeshkar, Abhijeet and Shaan expressed shock at the incident.

"I was very happy when he won the Voice of India contest. Such a fate to befall one at such a young age. I have no words to express my feelings", said Lata. She said Ishmeet had an original voice and did not imitate anybody else. Abhijeet, who was one of the jury members for Voice of India contest, said he was like a mentor for Ishmeet. He said he recognised the talent in Ishmeet and other jury members used to accuse him of favouring him. Shaan said he was shocked at learning the news of Ishmeet's death.

Punjab Chief Minister said in the death of Ishmeet the country has lost a "gem" and a "void has been created in the music world that is hard to fill".