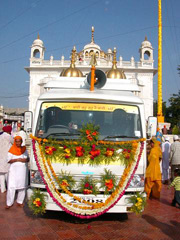 The Sikh Sangat and other community faiths of Andhra Pradesh who have been awaiting with batted breathe since last eight months is going to end soon as the dream of personally witnessing `` GURU MANYO GRANTH JAGRITI YATRA'' will be fulfilled as the yatra is all set to arrive into State Capital, Hyderabad from July 29 to August 1.

Commemorating the tercentenary (300 years) of the installation (consecration) of Sri Guru Granth Sahibji (Guruta Gaddi Diwas) and Parlokgaman (left for heavenly abode) of tenth Sikh Guru, Sri Guru Gobind Singh, the yatra commenced its journey from Takhat Sachkhand Sri Hazur Sahib, Nanded, Maharastra on November 15, 2007.

The yatra had covered more than 150 cities of India across Maharashtra, Madhya Pradesh, Chattisgarh, Bihar, Orissa, Jharkhand, West Bengal, Uttar Pradesh, Haryana, Uttarakhand, Himachal Pradesh, Rajasthan, Chattisgarh, Punjab, Goa, Gujarat, Karnataka, Tamil Nadu and now Andhra Pradesh.

For the first time in the Sikh history, rare weapons (Shastras) and other historical articles of tenth Sikh Guru, Sri Guru Gobind Singh and other Sikh martyrs have come out of the sanctum sanctorum of Hazur Sahib. These weapons are being taken for darshan in a specially designed rath (bedecked vehicle).

It also carries with itself the handwritten Sri Guru Granth SahibJi and other relics, along with medieval weapons (sastars) used by Guru Gobind Singh to fight against the oppressors in our country.

The yatra is aimed at spreading the message of equality of mankind and secularism and has received unprecedented response. As it is attracting people from all faiths, it is achieving the task of national integration.

The yatra will arrive into the Hyderabad city from Vijayawada on July 29, and would be received in a befitting manner by the Prabhandak Committees of all Sikh Gurudwaras and thousands of Sikh devotees.
Meanwhile, a grand reception will be given to the Jagriti Yatra, which will be spreading Guru Gobind Singh's teachings, once it reaches Hyderabad on July 29. Aircrafts and Helicopters will shower flower petals during the Jagriti Yatra procession at all the Sikh Gurudwara.

The twin cities roads will be decked beautifully to welcome the Guru Manyo Granth Jagriti Yatra, which will reach the city on Tuesday. Almost every road leading to Gurudwaras, sikh shops, houses would be decorated with illuminated gates, festive lights and buntings to receive the yatra.

Hundreds of hoardings proclaiming the arrival of the yatra would be installed near the roadsides. Tea and snack stalls will be also be set up. Guru ka langar (free food) will be served during all the three days.

The Committee Chairman S Gurucharan Singh Bagga, President S Trilok Singh and Secretary S Pritam Singh told that Jagriti Yatra will be welcomed in grand manner by the twin cities sangat at Chityal, Nalgonda district on July 29.
From here, it will proceed to Gurudwara Saheb Autonagar in the evening. After refreshments, the procession will proceed to Gurudwara Sahib Amberpet and than to Sikh Chawni, Barambala, Kishanbagh. A Night Deewan (mass Congregation) will be held at the Gurudwara. Yatra will have a night halt at Gurudwara premises.

The next day, July 30, the Jagriti Yatra will procced to Gurudwara Saheb Charmahal, Gurudwara Saheb Uppuguda, Gurudwara Saheb CRPF, Gurudwara Kalgidhar Niwas, Goshamahal and reach Gurudwara Guru Singh sabha, Ashok Bazar at 2 pm.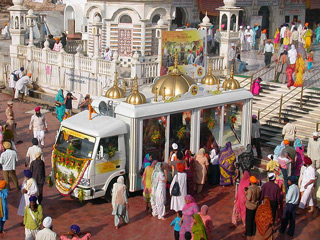 At 4 pm, a huge procession will start from the Gurudwara Guru Singh Sabha and proceed to NTR Stadium, Indira Park.  A Vishaal Deewan (Mass Congregation) will be organised at the Stadium in which reputed Ragi Jathas will recite Shabad Keertans in the evening.

A grand event will be organinsed at NTR stadium where Shastar De Darshan (Exhibition Of Rare Weapons of Sri Guru Gobind Singhji will be exhibited for the benefit of devotees.

Chief Minister of Andhra Pradesh, Dr Y S Rajasekhara Reddy, will be chief guest for the function at NTR Stadium. Several State Cabinet ministers will also participate.

Later in the night, there will be display of fireworks. After the congregation is over, the Yatra will move to Gurudwara Guru Singh Sabha, Ashok Bazar for night halt.

The next day, July 31, after the Kirtan Darbar at Guru Singh Sabha, the Jagriti Yatra will proceed to Central Gurudwara Saheb Gowliguda. Later, on the sadh sangat and devotees will proceed in bikes, cars to Gurudwara Saheb Ameerpet.

A grand reception cum welcome will be given to the Jagriti Yatra at Punjagutta and the procession will move to Guru Gobind Singh Sports Stadium Ameerpet. After the Kirtan Darbar followed by fire work display, there will be a night halt for the Jagriti Yatra at Ameerpet Gurudwara.

The next day, ie, on August 1, the Yatra will move Gurudwara Sahib Secunderabad via Gurudwara sahib Balanagar, Gurudwara Saheb Manovikas Nagar and Gurudwara Sitaphalamandi and return to Gurudwara Secunderabad for night halt stay.
Yatra will proceed to Karimanagar the next day.

The Military and Police bands will also perform on the occasion, they said. The Committee members appealed Sikhs to maintain discipline and light up the entire city road leading respective Sikh Gurudwaras as a mark of respect to the Yatra. VVIPS will be invited to take blessing of Guru Granth Sahibji.

More than 50 lakh devotees from around the globe are expected to visit Nanded for the two tercentenaries, Gurta Gaddi (installation) of Guru Granth Sahibji on October 30 and Parlokgaman (heavenly abode) on November 3.

"Guru Granth Sahib is the holiest scriptures if Sikhs, with sacred Bani of great Gurus, saints and bhaktas from different faiths, sects and regions, giving a universal message of brotherhood, goodwill, mutual trust peace and harmony,"Gurcharan Singh said.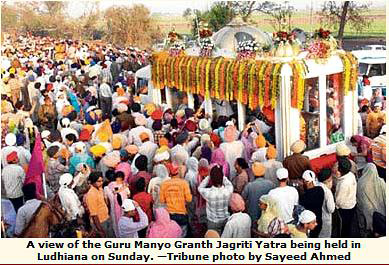 Sikhism as a religion is a little over 500 years old but the 'Khalsa Panth' came to be established only about three centuries ago. After 200 years of evolving under the ten gurus, the Sikhs were made as Khalsas by the tenth Guru, Guru Gobind Singh Ji.

A few days before passing away on October 7, 1708, Guru Gobind Singh ended the practice of appointing an individual as Guru and declared the holy Guru Granth sahib Ji as the eternal Guru of the Sikhs.


By S Bachan Jeet Singh