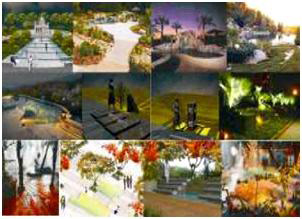 It's time for the Sikhs of the World to Reaffirm, Rejoice and Rejuvinate

The year 2008 is slated to go down in the pages of history as a golden year for the Sikhs. More than 4 million devotees are expected to congregate at Nanded to commemorate 300 years of Sri Guru Granth Sahib Ji as the eternal Guru (Gurta Gaddi) on 30th Oct, 2008 and the heavenly journey (Parlokgaman) of Sri Guru Gobind Singhji Maharaj on 3rd Nov, 2008.

One more step & we create history

Less than a year ago, when the grand celebrations & redevelopment of Sachkhand Sri Hazur Sahib Complex & Nanded city were being planned, it seemed like an ambitious, yet distant dream. However, with the overwhelming support & contributions from devotees across boundaries of religions & nations, this distant dream is now just one step away.

Getting ready for the Celebrations

The entire Sachkhand Sri Hazur Sahib complex is being redesigned on modern lines to accommodate at least 40,000 devotees in its parikarma. Over 350 families have been relocated & allotted permanent houses to expand the periphery of Sachkhand Sri Hazur Sahib.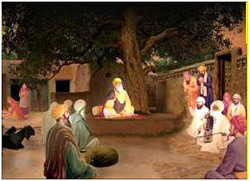 A unique community centre to spread the message of Guru

Close to the Hazur Sahib, the Guru Granth Sahib Bhavan is being constructed to spread the message of our Guru with the help of various traditional & cultural media. The large bhavan will accommodate 4000 devotees, indoors.
 Close to Nature... Closer to Guru

A unique garden at Gobind Baug is being developed about 200 metres from the Sachkhand with unique Amphitheatres, dancing musical fountains and laser projections on water screen. A number of waterbeds and fountains will enhance this beautiful garden.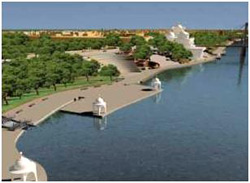 The Nanded, you have not yet seen

Even Government has recognized the scale of the event and extended their support in form of infrastructure development. The entire city of Nanded is being upgraded with better roads, railway station and a brand new airport. Godavari river front is being aesthetically developed with bathing areas and wide roads on banks. The work of flyovers, Railway over bridges and River bridges is in progress. The sewerage and drinking water facilities are being improved & a special Power Station is also being raised.

Bridging the gap between Sikhs & their history
Imagine being able to connect back to the roots of Sikhism. A world class museum is being set-up. It will showcase a rich tapestry of contents that will generate interest in all segments of the society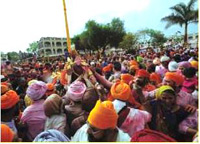 Be a part of the celebration

History is waiting for all of us. And a small contribution from you will help us create it.  The Gurudwara is spending Rs. 115 crore for celebrations and development work at Sri Hazur Sahib, Nanded. Every contribution, small or big will go a long way in helping us create the biggest event in Sikh History...

How to contribute

Send Cheques & Drafts to 'Supdt., Takhat Sachkhand Sri Hazur Sahib' Free remittances to: Takhat Sachkhand Sri Hazur Abchalnagar Sahib, Nanded through ATM State Bank of India A/c No. 11265873563. Donate online on www.hazursahib.com You can also transfer funds from anywhere across India to Current A/c No. 1, Punjab & Sind Bank, Nanded Branch

Spread the word!

Takhat Sachkhand Sri Hazur Abchalnagar Sahib Post Box No. 42, Nanded - 431 601 (Maharashtra) Phone: +91-2462-243559, 241266, 234813, Fax: +91-2462-234812.
E-mail: [email protected] www.hazursahib.com
300SaalGuruDeNaal.com