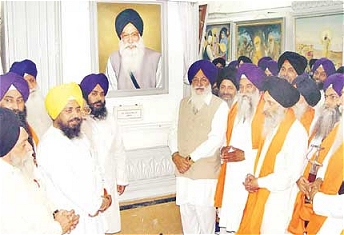 Amritsar Sahib (KP) - In honor of his selfless seva and research, a portrait of Sikh Scholar, Bhai Joginder Singh Ji Talwara, was installed in the Central Sikh Museaum, in the Darbar Sahib Complex, this week.

Shiromani Gurdwara Parbandhak Committee (SGPC) President, Avtar Singh Makkar, along with Sri Darbar Sahib Head Granthi, Giani Gurbachan Singh, Giani Mal Singh Ji, and other dignitaries marked the installation of a painted portrait of Bhai Joginder Singh Talwara at the museum.  A set of Talwara Ji's books were also presented on this occasion. 

Avtar Singh Makkar stated that Talwara Ji was a great Kirtani and a gifted scholar of Gurbani who had dedicated his life to Panthic endeavors. A kirtan divan was held afterwards, in which Hazoori Ragi Bhai Narinder Singh Ji recited Gurbani hymns in Talwara Ji's memory.

Bhai Joginder Singh Ji Talwara, a retired civil officer, who had at one time worked on the famous Bhakhra Nagal Project, dedicated over three decades of his life researching Gurbani and studying the written structure of old volumes of Guru Granth Sahib Ji.

He was an adamant proponent of having a single accurate and uniform Saroop printed under the aegis of Sri Akal Takht Sahib and the SGPC.  He despised the commercial printing process for Gurbani which has introduced countless inaccuracies and differences amongst various Saroops.  The SGPC has taken recent steps toward this direction, but a lot more needs to done to fulfill Talwara Ji's legacy.