Guru Gobind Singh Study Circle ( GGSSC ) culminated the course exam on Dus Guru Sahibaan at Rexdale Sikh Spiritual Centre, Toronto on this weekend. Prizes like Playstation 3 and PSPs were given away to the grand winners and trophies were awarded to the runners up as below:

13-19Yrs
First Prize Jasmeet Kaur
Runner UP1 Manpreet Singh
Runner UP3 Jagmeet Kaur
Runner UP4 Jaskaran Singh
Runner UP5 Manveer Singh 

8-12Yrs
First Prize Karanbir Singh
Runner Up 7 Yrs Agam Singh
Runner Up 8 Yrs Bharbir Singh
Runner Up 8 Yrs Karishma Kaur
Runner Up 9 Yrs Manjot Singh
Runner Up 10 Yrs Harkamal Kaur
Runner Up 10 Yrs Preet Kaur
Runner Up 11 Yrs Opinder Kaur
Runner Up 12 Yrs Savreen Kaur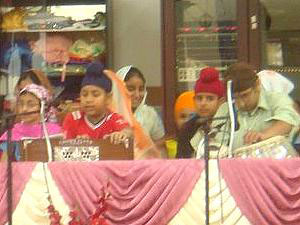 Under 8 Yrs old
First Prize Parampreet Singh
Runner Up1 Harjeet Singh
Runner Up2 Gurvinder Singh
Runner Up3 Rabjee Singh
Runner Up4 Gurjot Singh
Runner Up5 Onkar Singh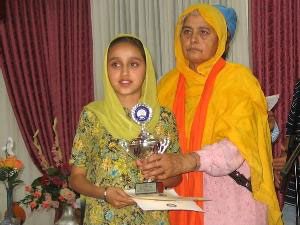 On asking why were GGSSC sevadars using gaming and latest technology gifts to attract kids towards these courses, S. Manmeet Singh said-" We strive to spread the message of sikhism and the teachings of Guruji to all..even those who are today running away from it. In order to get the next generation engaged in these courses so that they can be brought closer to their roots we need to offer them something that connects to their psyche..and Playstation and gaming does it for us!! Everytime we run these courses with prizes we get an enormous response. The same courses were run before without prizes and the turn out was miniscule"
Certificates were awarded to all 122 students who passed the course that taught them about the five sikh gurus from Guru Hargonind Sahibji to Guru Gobind Singhji. This course was part II for the first one called DUS GURU SAHIBAAN PART 1. The GGSSC Team employed state of the art technology to present the sikh history and its messages through multimedia slides that were not just pictures but also included videos from sikh websites. The biggest feature of these camps are that they employ Sikhnet Film Festival entries to use them within topics like ..'so kyon mandaa aakhiye jit jamaie rajaan'.
Some of the videos are so popular that kids release jaikaras , for instance when they watch the famous blade battle from UK Sikhs. Over 250 students from ages 4 to 17 registered for the Gurmat Crash Course IV that was held in Toronto on August 22,23 & 24th 2008
One of the parents said "We pray to Guruji to keep giving GGSSC the power to do these highly engaging and impactful courses that can change the way of Sikhi Prachar."
GGSSC plans to conduct these courses in various centres in NA. Please contact S. Amarpreet Singh at 647 280 5940.For more information about GGSSC please visit them at www.ggssc.ca