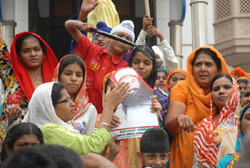 In a show of solidarity, hundreds of Sikh protesters of Andhra Pradesh today took out huge protest rally and burnt the effigies of controversial fake guru of Dera Saccha Sauda chief Baba Gurmeet Ram Rahim Singh whose body guards killed an innocent 42-year-old Sikh, Barkarar Singh Bhatti in Mumbai during a protest against the spiritual guru by a Sikh group in Mulund.

The hundreds of angry Sikhs comprising of men, women, youth and childrens with black badges gathered at Gurudwara Saheb Ameerpet, Hyderabad and raised slogans against the controversial fake baba and demanded the Maharashtra government and Government of India to immediately arrest Gurmeet Ram Rahim and his henchmen. The demonstrators took out a huge rally from Gurudwara Saheb to Ameerpet X Roads along with effigies of the fake baba tied with foot wears around his neck, raised slogans against Ram Rahim. The Sikh youths wielded Kirpans (swords) expressing their desire to kill the accused baba. Later, the agitators burnt the effigies of controversial fake Baba on the Ameerpet X Roads.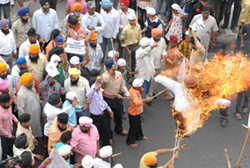 Sikhs have been vehemently opposed to Baba Gurmeet ever since the spiritual guru appeared at a public function dressed as Guru Gobind Singh in Haryana's Sirsa where a commune started by him is located. He claimed that he is the avatar of tenth Sikh Sikh Guru, Guru Gobind Singh and one should worship him which is against the tenets of Sikhism. Prabhandak Committee of Gurudwara Saheb Ameerpet, President, S Ajeet Singh Nischanchi termed the incident as shocking and demanded that the responsible persons should be immediately arrested failing which they would be compelled to intensify the agitation. Central Gurudwara Saheb, Gowliguda, President, S Tirlok Singh said that the Maharastra Government should give exgratia of more than Rs 10 lakh to the Sikh martyr who was killed in firing by the bodyguards of Ram Rahim Singh. Andhra Pradesh Sikh Welfare Association, President, S Huzur Singh who is also an SGPC member demanded stringent action the fake baba.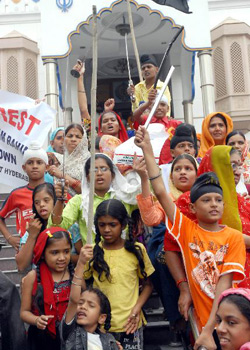 If there is an delay in arresting the guilty, the Sikhs will be forced intensify their agitation. GSA Secretary, S Darshan Singh demanded the Government to ban the illegal activities of Dera Saccha Sauda. Hundreds of people particularly are falling prey to his illegal activities like prostitution. Realising that Dera chief is a controversial figure and enemy of the Sikh community and who are baying for his blood, the Maharashtra police should not have allowed into the state. Two months ago, the Dera chief made an attempt to conduct spiritual programmes in Hyderabad city, but the alert Sikh community started large-scale agitations in advance, forcing the fake baba to cancel the programmes and forced to runaway from Hyderabad.

The three men arrested on Friday in connection with the killing have been remanded to police custody till July 2. But that may not be enough to end the protests.