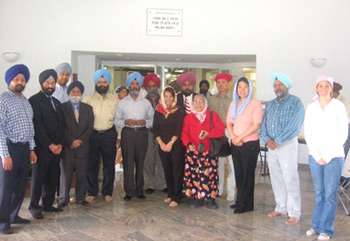 The Sikh Religious Society of Chicago hosted an open house on Monday, June 14 for the Palatine neighborhood non-Sikh community.
A steady flow of participants experienced the Sikh history exhibition displayed by S. Daljit Singh Deol, a video presentation about young Sikhs by Dr. Walia of Indiana, and another video presentation on the participation of Sikh soldiers in World Wars I and II by Sarwan S. Raju.
Young Sikhs sang Gurbani Shabads and projected their translation on the screen for visitors to understand and enjoy this aspect of spirituality. Thanks to Maneshwar Singh for organizing it. Each visitor was personally escorted by very dedicated volunteers to Sikh hospitality in the form of tea, sweets, Pakaura and Samosas. They tried their best to answer the intriguing queries politely and gracefully.
The Interfaith program was held in the congregation hall in the presence of Guru Granth Sahib. Over 250 people from many faiths graced the occasion. Bhai Mohinder Singh said a short prayer to open the program, followed by a welcome by SRS trustee Bibi Amarjit Kaur Atwal. A presentation was made by Dr. Baldev Singh on the "Message of Guru Granth Sahib to Humanity."
The mayor of Palatine, Rita Mullins; the mayor of Hoffman Estates, William McLeod; state Sen. Matt Murphy and state Rep. Fred Crespo greeted the Sikh community and welcomed the visitors.
Dr. Balwant Singh Hansra introduced the Rev. Dirk Ficca, executive director of the Parliament of World's Religions. Rev. Ficca showed two videos and invited all to attend this conference to be held in Melbourne from Dec. 2 to 9, 2009. The themes of the conference will be making a world of difference, hearing each other and healing the earth.
Representatives from various faiths presented their views and congratulated the Sikh Community on the 300th anniversary of Gurgaddi Diwas celebrations. Among the presenters were: Howard Larson, Bahai; Ms. Mazhar Ahmad, Islam; Ms. Diane Popper, Jewish; Sister Joan McWire, Archdiocese of Chicago (she read a statement from Cardinal George); Mr. Tim Harrington, Lake Street Church, Evanston.
Congratulatory messages came in from the Rev. Robert Thompson; Dr. Harley Chapman from the Religious Association of Palatine; Ms. Asayo Horibe, Buddhist; Imam Mubashir Ahmad, Ahmadya; Mr. Rohinton Rivetna, Zoroastrian; Ms Barbara Abrajano, executive director, Chicago Center of Cultural Connections; Ms. Cecilia A. Mowatt, St James Cathedral; Rev (Dr.) B. Herbert Martin, Progressive Community Church.
A sumptuous meal was prepared with reverence and humbly served at the conclusion of the program.
The Sikh community thanks all those who participated in one of their most important celebrations. Also thanks to all the volunteers, Langar hosts and organizers.
Dr. Balwant Singh Hansra
Sikh Religious Society of Chicago