Calgary (AB):  "Educational, inspirational and divine" were the words used by Deepshikha Kaur Brar to describe the elegant seminar and fundraising dinner sponsored by The Kalgidhar Trust in Calgary on June 1, 2008.  Ms. Brar is the host of the well-known TV shows "Parvaas" originating in Alberta but broadcast throughout Canada.

This event, held at the Don Hartman Sportsplex, was a resounding success by all measures. The evening's goal was to raise awareness and funds for the Trust's Akal Academies, a group of over 41 English medium schools located across Northern India. Over 500 guests were in attendance and they were informed and inspired by eloquent speeches especially by the Guests of Honor, Baba Iqbal Singh, President, The Kalgidhar Trust.  According to those present, these goals were not only met, but surpassed by leaps and bounds as numerous businesses and individuals, not only learned of the Trust's work, but also made contributions for their noble cause.
Other guest speakers, including Dr. Khem Singh Gill, former Vice Chancellor, Punjab Agricultural University, Avtar Hari Singh Khalsa of the USA , Mr. Manmeet Singh Bhullar. MLA , and Dr. Pargat Singh Bhurji, Principal of Akal Academy, Surrey,  outlined the need for rural education in Northern India and the immense amount of work being done by the Kalgidhar Trust in that part of the country.  The guests were also serenaded by music emanating from classical Indian string instruments beautifully played by students from Akal Academy, Baru Sahib, followed by Dhadi Varan and poetry.  Local Sikh youth performed Gatka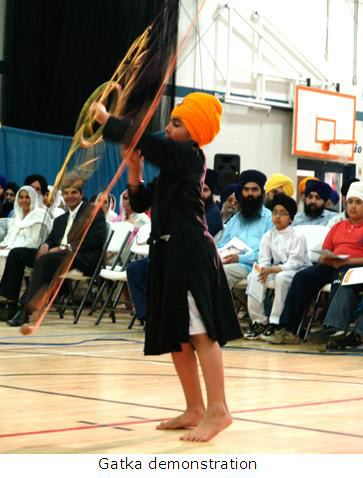 The atmosphere was filled with positive energy and numerous emails praising the event and its success continue to be received. "We hope to make this event an even bigger success next year and by the grace of God and the support of such a wonderful community, we are sure that it will happen." said Harpreet Singh Dhaliwal, the event's organizer.

Akal Academy's mission is to provide value-based, scientific education to children ages 4 to 18 in rural, downtrodden and backwards areas of Northern India. The Kalgidhar Trust has established Eternal University, a private Sikh-run university at Baru Sahib.  The Trust also runs an orphanage, a senior citizens home, a 200-bed free hospital, drug de-addiction centers, a home for widows and destitute women, and a rural development program.  For more information, please visit www.kalgidhartrust.org