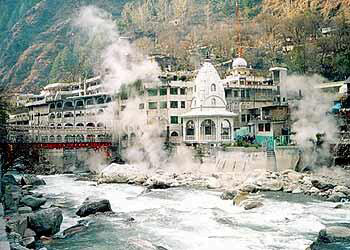 Shimla, June 14: A crucial bridge linking a famous Sikh shrine at Manikaran in Kullu district of Himachal Pradesh collapsed Saturday morning, snapping the road link to the shrine. The bailey bridge collapsed after a container truck tried to cross it despite the warning that the bridge could not take such a heavy load, Superintendant of Police (Kullu) Jagat Ram told IANS on phone.
Score of people were stuck as the truck was poised precariously atop the collapsed bridge till Saturday evening.
Manikaran is known for its hot springs of water with high sulphur concentration.
Jagat Ram said the bridge would be repaired in a few days. He said the traffic to the shrine from the direction of Mandi was diverted via Bajaura village in Kullu district.
However, Anil Kant, a resident of Kullu, said the repair of the bridge might take more than two months.
The army had built the bailey bridge after the link road to the main bridge across the Beas river was washed away in the 1995 floods.