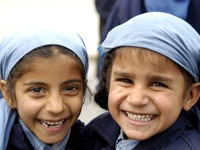 Vaien Puien (Tarn Taran) (ANI): They say Knowledge is Power. And, following these words of wisdom, a non-government organization (NGO) here is imparting free education to children from the lower strata of society at a public school here.

The NGO "Akaal Purk Ki Fauj" seeks to help people from the needy section of society.

To start with the NGO selected 200 children from 20 villages in 2005 falling under the jurisdiction of Village Vaien Puien, Today, the number of students getting free education has grown to over 450 pupils.

Built on a plot of two acres, the school offers education from nursery to standard five.

Qualified teachers have been employed. Students and staff are daily ferried by school vans.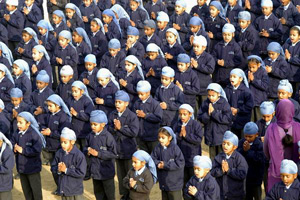 Ravinder Kaur, the Principal of APKF Public School, said that, "In fact, a large number of unrecognized private schools operate in the slum and resettlement areas of Amritsar and Tarn Taran districts to impart quality education at nominal cost. But Vain Poin is one of the most neglected area, deprived of any access to basic education.

Kaur said that there should be a proper system to support these children who were not able to get quality education.

Jaswinder Singh advocate, convener of APKF say the society should provide education to the children who cannot attend to go to good schools.

Joginder Singh, resident of Totian, whose grandchildren are getting free education in the APKF School, said that the APK is really doing an admirable work by providing basic education to poor children.

Kiran Deep Kaur, one student, who wants to become a schoolteacher said when she grows up, she hopes to impart free education in rural areas.

The school is being run with the help of donations by generous people from within the country and several non-resident Indians (NRIs) through their personal sponsorships of students. So far, 150 students are being educated with the help of private sponsorship that costs rupees 6,000 for each student.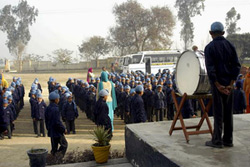 Akaal Purkh Ki Fauj (APKF) survey team has opened the eyes of quite a large number of people about the present standards of education. On a regional survey by APKF in the areas of Ajnala and Gurdaspur belt, it comes as a shock how the preachers of Christianity, under false pretence and vagaries are befooling people. It is our bad luck that a few weak people have lost their faith in the Gurus and in the lure of easy success have completely given up faith in their Gurus.

Around 18 months back, when this issue comes forth APKF, Bhai Joginder Singh Talwara Memorial Computer Centre and Bibi Bhago Memorial Stitching Centre were opened in Vain Poin, a village situated at Tarn Taran Goindwal Sahib Road in distt. Tarantaran. These institutions have been recognized under Government Community Polytechnic Scheme in which only 20 students can be enrolled in each course.
Having reached to 100 different families through these six month courses, many truths unfurled before our eyes, as a result of which APKF Public School came forward as a dream specially instilled by our Gurus, the educational status of which would be international. Keeping in mind all the above factors, it was decided that children from among 20 villages falling under the jurisdiction of village Vain Poin will be imparted free education. Economically deprived families, families with girl child only and children of baptized families will only be included under this scheme.

Students of the school & their families will be directly bound with Sikhism and not only shall superstitions and blind faith in false teachings be evaded, but the teachings of Shri Guru Granth Sahib shall be taught and so shall the rules be laid as per Sikh Rehat Maryada.

-By Ravinder Singh Robin (ANI)