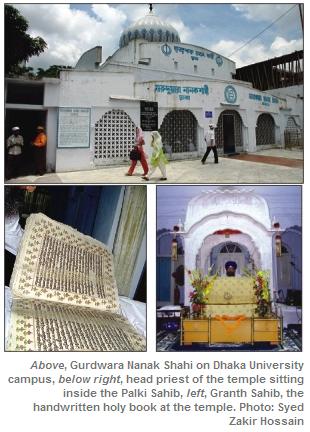 Devotees slowly begin to gather for the weekly prayer. Men and women with traditional headgears assemble around the head priest and the holy book. Hymns of verses like 'Prabhu milbe ko pritman lagi' (Lord, I have this ardent urge to meet you) create a spiritual ambience while the devotees listen to them intently.

This is how the believers of Sikhism join together for weekly prayer on every Friday at the Gurdwara, the temple of the Sikhs.

The Gurdwara Nanak Shahi situated on the Dhaka University campus is the only temple in Dhaka city where the Sikh community, the followers and admirers of Guru Nanak Dev Ji, gather to pay their respect and pray.
'Sangat' or religious gathering is mandatory for Sikhs, which takes place in Gurdwara on every Friday. The temple becomes filled with devotees from 11:00am. Priests present Kirtan (hymns) and verses from the holy book joined by the devotees. The session ends at 1:00pm with 'Guru Ka Prashad' (food of the guru), made of atta, ghee, sugar and milk. Every Sangat is followed by 'Guru Ka Langar' or community kitchen.
"Any God's soul is welcome to have food at the langar," said Bhai Piara Singh, the head priest of Gurdwara Nanak Shahi, Dhaka.
More than five hundred years ago Sikhism began with the teaching of Guru Nanak, who was a believer of one god and strongly emphasised that all men are equal, explained the head priest. Guru Nanak believed that worship and piety has no meaning if they failed to promote truthful conduct and compassion for the less fortunate.
"Human being belonging to any religion, caste or creed is welcome to our Gurdwara. After every gathering and Kirtan we welcome them to the community kitchen to nourish their souls," said the head priest who has been living in Dhaka since 1992.
Every Friday around 400 people receive free vegetarian food at 'Guru ka Langer.' Another 250 destitute children are also provided with free food every Friday.
Sikhism made its debut in Dhaka when Guru Nanak, the founder of Sikh religion, visited Dhaka in 1504. He started spreading his message in 1499 from Punjab and travelled many parts of Asia on foot. During his brief stay in Dhaka he left his ideals in the minds of many. The Gurdwara in Dhaka was established to commemorate his visit.
The temple on the DU campus is believed to have been built at the initiative of a Sikh priest, Bhai Nathan, sent by the sixth Sikh guru, Hargobind Ji (1606-1645), during the reign of Mughal emperor Jahangir. He laid the foundation stone. After that the work continued slowly and it was finished in the year 1830.
When the temple was established it was known as 'Sujatpur Sikh Sangat' as it was situated in the then Sujatpur mouza of Dhaka.
The new religion was later led by ten other Gurus. Guru Tegh Bahadur Ji was one of them who stayed at Banglabazar in Dhaka for a while to spread his message.
Today the temple has a single-dome prayer hall surrounded by several smaller quarters. The smaller rooms are linked to the central one with pillared ways. The arrangement enables a large number of followers to sit together, pray and listen to hymns.
Inside the prayer hall there is a small ornate overhead marble dome called the 'Palki Sahib'. Granth Sahib, the sacred religious book of the Sikhs, is placed under the Palki Sahib, which is basically the symbolic home of the holy book.
The head priest said Granth Sahib contains compilation of teachings of five first Gurus in a scripture form. It contains 1,430 pages. Granth Shahib acts as a guideline for all Sikhs.
Beside the dome rests a handwritten Granth Sahib. It is in original handwriting of the Gurus who visited Dhaka. Covered with yellow sequined cloths, it is placed on an altar.
Five priests are stationed here to preach the religion. The Gurdwara also provides residence facility to foreign devotees who can stay and dine there for free. Currently there are seven rooms for them and five new rooms are now under construction.
One new prayer hall is also being constructed, which will accommodate around 500 devotees at a time. The new prayer hall will be open in November during the celebration of Guru Nanak's birthday, the head priest said.
A Sikh Research Centre is also under construction, which is scheduled to open for all in December this year. Books on Sikhism, both in Bangla and English, will be available there.
Suresh Kumar G Singh, president, Bangladesh Gurdwara Management Committee, said, "In Bangladesh there are no resident Sikhs. The Gurdwara is mainly attended by Sikhs living in Bangladesh for business purposes and working as Indian embassy staffs."
Kumar said there is a group of locals who join prayers at Gurdwara on a regular basis. "The members of 'Balmiki' community usually come here. They are followers of Guru Nanak for generations. These people can even read Granth Sahib written in Punjabi and join weekly religious sessions on Fridays and on special occasions."
Balmiki is a faith practised by some Dalits or Harijan community of this continent.
The temple is now run by the management committee with donations from Indian and Bangladeshi devotees.
Kumar mentioned that there are five Gurdwaras in Bangladesh -- two in Dhaka (DU campus and Banglabazar), two in Chittagong and one in Mymensingh. "Other than the one at DU, most of these Gurdwaras are in appalling condition. Some of these facilities have been encroached by illegal occupants," he said.

Kumar urged the government to recover the encroached land from the illegal occupants so that they can extend their facilities and spread the message of Guru Nanak.
- By Shahnaz Parveen