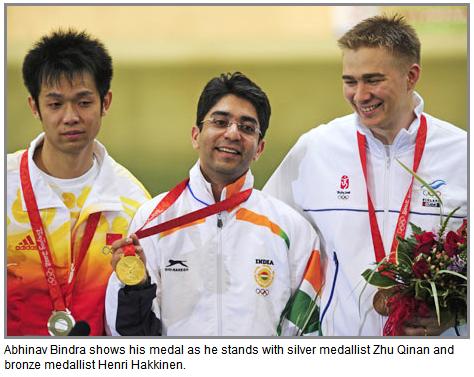 BEIJING: The final shot from Abhinav Bindra's rifle may not have been heard outside the packed hall in the Beijing Shooting Range Complex on Monday morning. But its bang was loud enough to lift the spirit of a billion-plus Indians back home.

No individual gold has mattered so much to so many people in the history of Olympics. It was a medal for Abhinav; it was redemption for India. Never again will anyone be able to point a smug, sardonic finger and say: "No Indian is good enough to win an individual Olympic gold."

Hockey's eight gold medals notwithstanding, the last coming 28 years ago, this is the first time that an Indian has won an individual gold since modern Olympics started in 1896. There is no greater joy than listening to the sound of the national anthem on the world's biggest stage.

The global media looked bemused as grown-up Indians danced like little children, shedding tears of joy. How can they understand?

The joy was also spurred by the improbable nature of the triumph. The script of the men's 10m air rifle final might have been penned by Alfred Hitchcock himself. Bindra, who qualified for the final in the morning with the fourth-best score of 596, looked calm and assured when the call for the first shot came.

The first shot - 10.7. He started with a bang and that set the tone for the 10-shot final. He followed it up with a 10.3. After the third shot, a 10.4, he had moved from No. 3 to No. 2. Then, Bindra slowly ate into the lead of Finland's Henri Hakkinen and went ahead after the seventh shot with 10.6.

Hakkinen caught up with him after the ninth shot, and with one shot to go, the Indian and the Finn were tied at 689.7 points.

There was a hushed silence inside the hall. The suspense was unbearable. It's in such situations that champions show their mettle. And Bindra showed nerves of steel. He fired first, an amazing 10.8 for a total of 700.5. Home favourite and defending champion Zhu Qinan shot a 10.5 and Hakkinen simply withered under pressure, managing only 9.7. Bindra finally smiled, but barely.

He turned back and went up to hug his Swiss coach Gaby Buehlmann, with whom he trained for months in Germany, away from the intrusive home media. After the medals' ceremony, Bindra was mobbed by journalists, several of them from Finland and China.

"How does it feel Mr Bindra?" "Hard to describe it... it's the thrill of my life," he said, still looking calm as a monk. "The final shot was perfect. I just went for it. I was aggressive. It went my way. I'm lucky," he added in a matter-of-fact tone.

Will this not change his life? "My life will go on. I hope it changes the face of Olympic sports in the country," he said.

This is the fifth individual Olympic medal for India. Khashaba Dadasaheb Jadhav won the first, a bronze in wrestling at the Helsinki Games in 1952. After a long gap, Leander Paes won the tennis bronze in Atlanta Games in 1996. Then, Karnam Malleswari won a weightlifting bronze in 2000 in Sydney and Rajyavardhan Singh Rathore raised the bar, winning a silver in Athens in 2004.

Rathore, who was practising for his event that is scheduled for Tuesday, watched it on TV in the players' lounge in the trap section. "My congratulations to Abhinav. He has raised the bar further. I always maintained that this is a world-class shooting team. There will be some hits and some misses." 
My son has proved Singh is King: Bindra senior

With their son winning the first gold for India in the Olympics Monday, Babli and AS Bindra could not hide their joy, receiving congratulations from friends and relatives at their farm house near Chandigarh.

"My son has proved that 'Singh is King' in a real sense. He has brought laurels for the whole Sikh community and for the whole nation," said father AS Bindra.

The shooter's beaming mother Babli Bindra added: "I had talked to him briefly yesterday (Sunday) afternoon. He was determined to hit the bulls' eye this time. But still I was very nervous in the morning and was keeping my fingers crossed. Now I am trying his number but he must be busy as he is not picking the phone.

"We have not eaten anything except ladoos since morning as we did not get time to have our breakfast. Ever since the news broke that Abhinav won the first Olympics gold medal for India, all the phones at home have been ringing continuously.

"I had sent him an SMS in the morning, 'Abhinav you can do it, go for it', but I am sure he must have not seen it. On hearing the results, I was breathless and started screaming in joy," a beaming Babli told IANS.

"He will return to India Aug 14 and we are going to receive him at the airport. I am anxiously waiting for that moment when I can hug him and congratulate him," Babli added.

Like Abhinav's last two Olympic outings, the Bindra family also planned to go to Beijing to see his performance, but they decided against it as they could not find rooms in any good hotel there.

"It has proved to be a blessing in disguise that we did not go there. I have also not talked to him for the last five days. Our presence at the venue could have put an unnecessary pressure on him and affect his performance," said his father A.S. Bindra.

"Now I am just waiting for his return and then there will be a series of parties, celebrations, bursting of crackers and everything that I can do on this earth," he said.

The Bindra farmhouse, on the Zirakpur-Patiala highway near Zirakpur town in Punjab around 15 km from Chandigarh, wore a festive look with relatives and family friends pouring in to celebrate the occasion.

Despite the heavy rain, everyone in the farmhouse was busy congratulating one another and in dancing to the tunes of popular numbers.

Sweets, especially ladoos, were being distributed to everyone coming to the house. 
 Photo: Copyright © 2008 Bennett Coleman & Co. Ltd