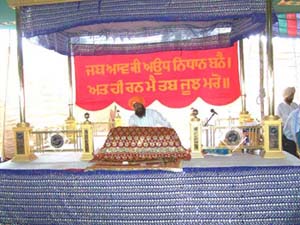 In connection with the 402nd Martyrdom of fifth Sikh Guru, Sri Guru Arjan Devji, a colourful Holy Procession (Nagar Keertan) was taken out on Saturday from Gurudwara Saheb, Sikh Chawni, Nalebagh, Uppuguda in which hundreds of Sikh devotees and other community faiths took part in the procession amidst the chantings of Gurubani Keertans.
The procession was taken out Gurudwara Saheb Uppuguda and passed through the lanes of Kandikal Gate, Lal Darwaza, Gowlipura and Bhoiguda and return back to gurudwara in the evening.

Prabhandak Committee,President, S.Jahan Singh said that Guru Granth Sahebji (sacred Scripture of Sikhs) was carried on a beautifully decorated vehicle along with five " Nishaan saheban " during the procession. Shabad keertans were rendered by the Keerthani jathas of men, women and youth groups.

"Panj Pyaras"  (five beloved ones) and sikh youths displayed "GATKA" extraordinary exercises with their swords skills and other skills with breathtaking performance attracting the passer bys all along the procession route. Kada Prasad, tea and snacks were supplied to the devotees and passersby all along the routes.

VISHAAL KIRTAN DARBAR (MASS CONGREGATION) ON JUNE 8
A "Vishaal Keertan Darabar" was held at Quli Qutub Shah Stadium, Opp.City College from 11 am to 4 pm.

Renowned Ragi Jatha from various parts of the country, Bhai Balwinder Singhji (Amritsarwale), Bhai Surinder Singhji (Patnasaheb), Bhai Surinderpal Singhji (Ludhiana), Bhai Hari Singh, Bhai Nagina Singh recited shabad keertans and threw light on teachings and sacrfices made by  Guru Arjan Dev Ji.

Guruka langar was served to all the devotees.