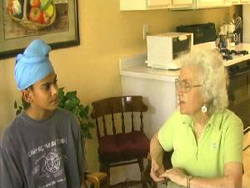 The Spinning Wheel Film Festival in Washington DC celebrated the stories of Sikhs worldwide on June 21, bringing diverse interpretations of their culture, identity and history to the screen.

The Sikh film festival is held annually by the Kaur Foundation to encourage Sikhs to share their thoughts and talent with the world.

One of the popular films screened was One Light, a film celebrating the oneness of people, directed by 14-year-old Angad Singh from Atlanta, Georgia.

A still from One Light A still from One Light The young Sikh interviewed neighbours, with questions about them, sources of conflict in the world, how to bridge gaps in the human race, and asking them to draw parallels between their culture and his.

"My goal was to bridge the differences between people and celebrate the similarities that we as humans share," says Singh.

Another standout film was a BBC production on Monty Panesar, portraying the Sikh cricketer as a role model in the world of sports. The docu-film was about his life, and followed him on his visit to India.

Kaur Cultural Safari, an 18-minute DVD made for elementary schools, was also screened at the festival.

This film demystified the Sikh culture among school children. Here three children explore various elements of the Sikh faith. They learn to tie a patka and a turban, visit a Gurudwara and learn about the birth of the Gurus.

"The festival was a huge success and we had national and overseas participants ," says Inni Kaur, one of the organisers. "It is about uniting the community. These are our stories, who will tell them if we don't?"

NET NEWS

When Mozilla upgraded its popular browser last month, there was a surprise in store for Indians. The Firefox 3, was released in 46 languages; while Hindi didn't make the cut, Punjabi did.

The browser registered 14 million downloads within four days of its release on June 17. A Mozilla spokesperson said that there were no selection criteria for the languages. "Localisation efforts are volunteerdriven.

Volunteers translate the software into their native languages," he said. The addons.mozilla.org website has language packs for Hindi and Tamil, but volunteers need to develop them into the languages. Here's to Punjabi power!

'SIKHS HAVE MANY BEAUTIFUL STORIES TO SHARE'
Ocean of Pearls, set in Canada and America, is a film by Sarab Singh Neelam, who is also a practising physician. It is the story of a young Sikh man who is a target of racial profiling. When his appearance gets in the way of his career, he cuts his hair.

Sarab Singh Neelam (left) on the sets of the movie. Eventually he reexamines the traditions he has neglected. The film is being screened at various film festivals. Priya Gill in conversation with the director.
Q. Why did you make this film?
A. Events like 9/11 made us feel like outcasts and terrorists and we were so misunderstood. There were numerous hate crimes against our community which continue to this day. I found out that there is no Sikh filmmaker who wears a turban, not even in India. This film is encouraging others to write and direct as we have so many stories to share with the world.
Q. How has the response been so far?
A. It has been humbling. People have been so moved by this story that they are spreading the good word.
Q. Why a Sikh male for the lead role?
A. It was the producer, Jim Burnstein's idea. He wanted to see America through the eyes of someone different.
Q. Why did you choose a medical theme for the film?
A. The real story is Amrit's identity crisis as he is going through a difficult phase in his life. His story is universal as people of all religions and races have felt connected with the characters. There are many layers to this film and the theme of medicine is only one of them.