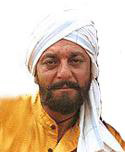 Sanjay Dutt and Bunty Walia have decided to make a movie based on the battle of Saragarhi. For those of you who don't know what that is, the battle of Saragarhi was fought during the Tirah campaign in the north-west frontier (now a part of Pakistan) of British India. Many Sikh soldiers sacrificed their lives defending an army post in the battle.

According to a daily, Bunty being a Sikh himself has wanted to make a film on the subject for a very long time now. Happy with this project, Bunty said, "I am a Sikh and since many years, I wanted to tell this brave story of the Sikhs to the world. Rohit broached this subject with me recently and asked if we could make a film on this and I knew my dream has been realised. "

He then spoke to Sanjay Dutt about the idea who loved it.

The film titled, 21 Battle of Saragarhi – From Ashes to Glory will be produced under the banner of Sanjay Dutt Productions and G S Entertainment and directed by Rohit Jugraj. Sanjay Dutt will be playing Havildar Ishar Singh, who'd led the Sikh onslaught in that battle. 20 others have to be roped in for the cast as well.

The trio – Sanjay, Bunty and Rohit even met the I&B Minister Mr Priya Ranjan Das Munshi and Defence Minister AK Antony to make a presentation on the subject.

The film will have some special effects for which Hollywood technicians have been roped in. With a budget estimated at Rs 200 crore, this could pass as the costliest Bollywood film ever made.

The shooting will take place in Morocco where the topography matches that of the North-West frontier according to Walia. An excited Rohit adds, "It is an honour to make a film on 21 unsung heroes." Talking about the film he said, "I have contacted Chris Watts who was the special effects supervisor for 300. I am also in talks with cinematographer Christopher Doyle (of Lady in Water). We'll have at least 9 big actors from Bollywood. A lot of pre-production is needed in the film, so it'll take time to go on the floors. But frankly, I just can't wait to start with the film."