SikhNet wants to get the word out about the SikhNet Youth Online FiLM FESTiVAL.
...So we're giving away an iPad.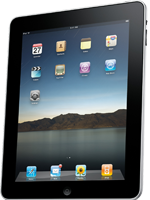 "How do I enter?" you may be asking yourself... Well, it's simple. Just go to SikhNet.com/FilmFestival/iPad , which will take you to our Facebook sweepstakes page, put your email address in, and click "Enter". That's all you have to do for 1 entry point. Also, for every one of your Facebook friends that enters, you will get 1 additional entry point. So be sure to share it to increase your odds of winning. There is no purchase necessary. The winner will be chosen on On Aug. 31st.
"Is this a scam?" you may be asking yourself... No. It is a promotion. We really are giving away a free iPad. "But why would you do that?" you may be asking yourself... Because we want people to like our FaceBook fan page, so more people know about the Film Festival this year. We want to get the word out, so we will receive lots and lots of films. Once we receive lots of films, people like you will get to watch them for free, for your enjoyment and inspiration. Also the more we watch the Film Festival entries, the more support we give to the young SikhNet filmmakers who take the time to create their original films.
 *Sweeptakes entries will be accepted until August 31st, (which is also the the Film Festival submission deadline)
 Learn more about the SikhNet Youth Online Film Festival
For the first time ever, we have added a short film category. Lets see what you can do in 5 minutes or less the moves people deeply, makes them laugh out loud or hits them right between the eyes!

TWO opportunities to Win!

When you make a film this year you can also enter it into the Tony Blair Foundation "Faith Shorts" Film Competition. Their deadline is July 9th. More

Cash Prizes

JUNIOR
First - $500
Second - $250
Third - $125 

INTERMEDIATE
Best Long Film (20 min. or less) - $1,000
Best Short Film (5 min. or less) - $1,000

Intermediate Age Range increased

In previous years the intermediate category was 18-25, we have increased it to 28 so more young film makers are eligible to win.

Submission Deadline:

August 31st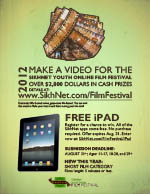 Want to Help?


Sponsor the Film Festival
You can support the film festival, and get your name out there at the same time. Platinum sponsors will have their name/logo put in the intro of every 2012 video entry.
Learn More