Here at SikhNet we could really use your help in spreading the word about the SikhNet Youth Online Film Festival. There are lots of people that view SikhNet who are on the internet, but many more who are not online and might not know about this event. This is where your help comes in! We are looking for some volunteers that can help spread the word about the event in their local community.
We all talk about helping the Sikh youth; well this is a concrete way that you can do so. All it takes is some of your time and energy to help make this event successful. I'm looking for committed individuals who can help in any of the following ways.
If you would like to be a part of the SikhNet organizing group for this event and help with any of these items, please email me and let me know how you are able to help.
Film Festival on Facebook - Are you on facebook? Share the group with your friends.

Printable Flyer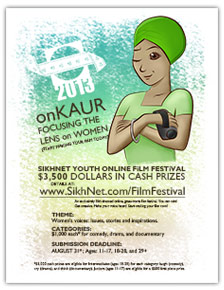 (Right Click and select "Save Target As" to download to your computer.)
One of the ways that you can help is to choose a flyer below and print it out on your printer. After printing it give it out to friends, post it in your local Gurdwara, youth group, camp, newsletter, etc.