As you may know SikhNet holds an annual film festival. It's for the youth. It's totally online. Over the years it has generated a lot of creativity and inspired Sikh youth to use film to make their voices heard. Check out the competition winners from last year. 
There are about 30 days left until this year's deadline. That's still enough time to make a film (If you haven't started already). If you are not into film-making, maybe you know someone who is. So, please let them know about it, and encourage them to start. Print a poster. Like/Share the Film Festival on Facebook.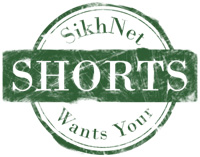 Since we are including SikhNet Shorts (5 min. or less) films this year, it might take you less time to produce and edit your film. All you need is a good idea... 
So, let's talk about how to plan a film. Planning is the most important part about making... well, anything. So to begin, I've broken down the planning part of film-making into 4 steps;
1. Inspiration
It might be helpful to watch some other films. Many times this inspires us and gives us ideas. The intention is not to copy someone else's film, but to let their idea spark your mind. Inspiration might come from many other places too, perhaps a song, a person etc. Many inspirations just jump into our minds when we're not expecting it, but the important thing is to be looking for it, and using your mind power to attract it. It probably won't come to you if you are not focused on it, so spend some time getting inspiration.



2. Concept
Sit down, and start writing 5-10 concepts. Concepts are 
WHAT your film is going to be about; 
the issues your film will address. Think of things related to Sikhi that are on your mind. Write down whatever comes to mind, even if you think it might sound stupid. Concepts would be like; bullying, dealing with prejudice, how to meditate, Sikh unity etc. 
3. Outline
Pick 1 or 2 of those concepts that you are most passionate about sharing with others, and start writing story outlines for them. A story outline, is a brief description of what happens in your film. This is HOW the film shows the concept. Write several story outlines. Writing several of them might help your story to go in a direction you wouldn't have thought of at first. Lets say I chose the 'How to meditate' concept. My outline could be about interviewing people and seeing what they have to say. Or maybe I can make a story where the main character has trouble meditating, meets a teacher, and then learns. The outline doesn't have to be longer than a paragraph.


4. Story
Write a script/storyboard. Once you have chosen your outline it's time to get into detail. The script is where you write out what each character is going to say. If it helps you, you can make small quick drawings of what the characters are going to do. This is called a story board. This can help you decide camera angles, length of scenes etc. It helps to plan how each scene of the film is going to look before you pick up the camera. Keep in mind what resources you have; actors, equipment, setting etc. because that can determine how your story is told. 
These first 4 steps are the most important part about film making. And guess what? They are free. There are lots of films out there with a simple production, but they are good because of their concept. Check out "Intoxicated" by Narvir Singh. 
This is just to get you started. There is more to know when it comes to filming and editing. Please visit our Getting Started page for more information. 
Have you signed up for the free iPad yet? Why not? Seriously... Did we mention it's free? Insert your *email, and hit the 'Enter' button on our FaceBook sweepstakes page. It's that simple. 
ENTER!
*Entering your email does not add your email address to any email list. The email is used 
to keep track of the entries.