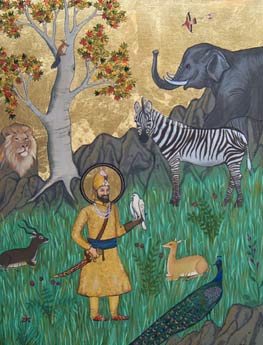 March 14th, marks the Gurpurab of Guru Har Rai Sahib. It is also the 2nd Sikh Environment Day. Sikh Environment day has been place on this Gurpurab because Guru Har Rai was known as an plant and animal lover. His reign as Sikh Guru was a time in-between the wars fought by Guru Hargobind, and Guru Gobind Singh. This time of peace was marked by humanitarian services such as free hospitals and langar, as well as plant and animal causes. Guru Har Rai would capture injured animals, nurse them back to health and send them back into the wild. He had a zoo of animals. He also had a wide collection of herbs and plants, as well as many other trees and flowers in his garden. 
You can share with your children, and learn more about Guru Har Rai in the most recent SikhNet audio Stories: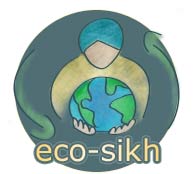 To celebrate this holiday means to participate in something that helps the environment and brings us to a feeling of being in the court of Guru Har Rai ji. SikhNet has created a fun way for people of all ages to participate; DHARMA BADGES. We have incorporated an entire category of badges into the system called Eco-Sikh. So what are dharma badges? It is a reward system for children, and people of all ages, to do Sikh activities like meditating, doing seva, and environmental things like recycling and conserving water. 
Read More here
Start your Dharma Badge NOW
======================================
Article by EcoSikh.org:
Sikh Environment Day
This year we will hold the 2nd Annual worldwide Sikh Vatavaran Diwas (environment day) celebrations the week of March 14th, 2012. This day marks the New Year in the Sikh calendar and the Gurgaddi Diwas of Sri Guru Har Rai Ji, who is remembered in Sikh history for his deep sensitivity to nature and its preservation.
Link here to find out how more than 450 schools and Gurdwaras were involved in Sikh Environment Day last year, and for inspiration about how to organise social action on this scale.
This year we plan to reach a new target – with 700 Gurdwaras, schools, and organizations in Punjab and the Diaspora to hold divaans focused on the environment and participate in ceremonial tree plantings. By joining in, Sikhs across the world will focus on their responsibilitytowards the environment and raise awareness about the state of ecology across their spiritual homeland, Punjab.
Major Sikh bodies, including the Shiromani Gurudwara Prabandhak Committee will send messages throughout Punjab inviting all Gurdwara to participate. Celebrations will also take place at Anandpur Sahib and hundreds of schools throughout Punjab.
This is the second annual celebration planned by EcoSikh, an organization that was created as the Sikh community's contribution to the Alliance of Religions and Conservation (ARC) and the United Nations Development Programme's (UNDP) Plans for Generational Change project. The project works with the major world religions on long-term plans to improve their relationship with the environment.
Gurdwaras and organizations that participate will also receive a compilation of selected shabads on the environment along with the Sikh Vatavaran Diwas toolkit so that they can participate fully and actively in the March 14th celebrations. Participating Gurdwaras encouraged to register as early as possible through an online form on the EcoSikh website.
 ============================================
Other articles



| | |
| --- | --- |
| | Feb 2, 2012 ... Surrounded by seven hills, high above lush green forests is thetemple town of Tirumala. The crown jewel is the dazzling gold-plated temple of .. |

 

| | |
| --- | --- |
| | Mar 2, 2012 ... Sikhs around the world will gather to celebrate the second annualSikh Vatavaran Diwas (environment day), on the 14th of March this year. |




| | |
| --- | --- |
| | Nov 21, 2011 ... Sikh pilgrims stream into the Golden Temple in Amritsar, India, on Nov. ... Green Pilgrimage Network — to encourage environmentally friendly ... |




| | |
| --- | --- |
| | Mar 5, 2012 ... This is the largest meeting of Sikhs on environment in Haryanaand first ever joint action plan being launched by participating organizations ... |




Environmental

 Protection in Sikhism. March 12, 2010 by Dr. Dalvinder Singh Grewal Source:

www.sikhphilosophy.net

. The Akal Takhat is the highest temporal

...




| | |
| --- | --- |
| | Feb 15, 2012 ... February 14, 2012; the recent Punjab Forest Survey Report of the Forest Survey of India, revealed, that Amritsar, the Pilgrim City of Sikhs has... |