Spinning Wheel Film Festival-June 21st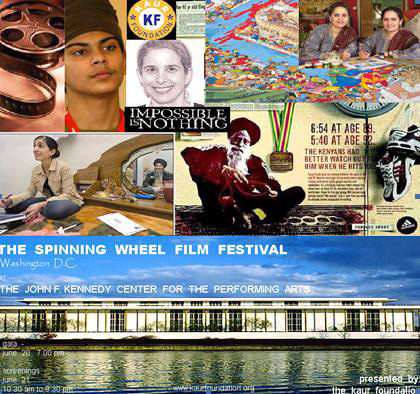 Want to see the best in Sikh Cinema ?
Come to The Kennedy Center, June 21st, 2008 for the SPINNING WHEEL FILM FESTIVAL, DC
 
'Train to Pakistan'… ,'One Light'…, 'Chardi Kalaa Down Under'…,'In Search of my Tartan Turban'…, 'The Making of Liverpool'…, 'Sewa -  from Paris to Tapovan'…and more!!

The Kaur Foundation brings this unique Film Festival to DC, showing 19 films & documentaries about Sikh heritage and culture, by film makers worldwide! Visit www.kaurfoundation.org for more information.
 
A weekend of Sikh cinema and celebrity gala at nation's capital brought to you by The Kaur Foundation

Leadership Awards Gala
Leaders of Today… Lighting the Torch for Tomorrow
Spinning Wheel Film Festival, DC A Cinematic View of the Sikh Culture

What:  The Kaur Foundation will host its annual Sikh Leadership Awards Gala and the Spinning Wheel film festival, celebrating Sikh heritage and culture, in Washington, DC. (www.kaurfoundation.org)

When:   

Awards Gala
        Friday, June 20th, 2008
        7:00 pm. - 11:00 pm.

        Film Festival
        Saturday, June 21st, 2008
        10:30 am. - 9:00 pm

Where:       
Awards Gala
        Organization of American States Building
        17th Street Constitution Avenue
        Washington, DC 20006

Film Festival
The Kennedy Center
2700 F Street, NW
Washington, DC 20566

Why:
The 2008 Kaur Foundation Leadership Awards Gala "Leaders of Today . . .  Lighting the Torch for Tomorrow" — The awardees are being honored for their contributions in advancing the Sikh heritage in the global community.

The unique Spinning Wheel Film Festival is being hosted in the nation's capital.  This film festival celebrates the stories of Sikhs, and brings diverse interpretations of their culture, identity, and history to the screen.
 
Details:    

Awards Gala:
The Leadership Awards Gala recognizes the awardees, and their accomplishments in the journey towards equality for all. The 2008 awardees are: Sardar Fauja Singh "Impossible is Nothing" - Adidas billboard, 97 year old icon, marathoner from the UK, Dr Paul Taylor, - "Legacy of Punjab" - Smithsonian, Museum of Natural History, Ms.Ranbir Kaur, US Armed Forces – 21 year old serving in Iraq, and Ms.Manjyot Kaur, Assistant Editor of "sikhchic.com" –  online magazine of the Art and Culture of the diaspora.

A groundbreaking video the Kaur Cultural Safari, produced to educate school going audiences and their teachers about the Sikh culture, and the book Dear Takuya, letters by an eight year old Sikh-American boy to his Japanese pen-pal - will be released at the gala.

Film Festival:
The Spinning Wheel Film Festival showcases Sikh documentaries, shorts, archival and historic footage, narrative, and full-length feature films. It brings together filmmakers from across the globe to screen their films and discuss their work with the audience. Among the films being shown are:

Cluster 1      10:30 a.m. - 1:00 p.m.
        Nine Films   
        "One Light" – by 14 year-old Angad Singh
        "In search of my Tartan Turban" – by Corinna Faith

Cluster 2      2:30 p.m. - 5:00 p.m.
Six Films    "Chardi Kalaa Down Under" – by Kavi Raz
        "Alone Together" – on the world renowned artists: Singh Twins
        "The Making of Liverpool" – by The Singh Twins  - USA premier public screening
        "A Cultural Safari" – a Kaur Foundation exclusive presentation - USA premier public screening

Cluster 3      6:30 p.m. - 9:00 p.m.
        Three Films   
        "Train to Pakistan" – based on Khushwant Singh's novel
        "Seeds of Life" – by Usha Albuquerque

Directors Q&A:   

Cluster 1    Angad Singh
Cluster 2    The Singh Twins: Amrita K. Singh and Rabindra K. Singh and Reema Anand

Admission:    For tickets to the Spinning Wheel Film Festival and for further information please visit kaurfoundation.org and kennedycenter.org 

SikhNet Email Lists:
Over 33,000 Sikhs all over the world enjoy SikhNet emails. Select the emails you would like to receive.