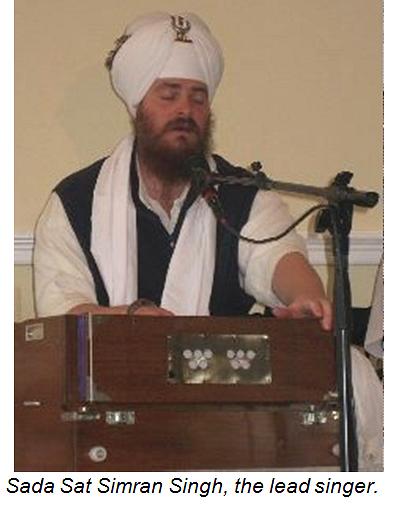 Washington, February 19, 2009 - The musical rendition of Gurbani by Sada Sat Simran Singh of Chardi Kala Jatha, a kirtan jatha formed of American Sikhs, permeated the hall of Guru Gobind Singh Foundation in Rockville, MD on Sunday, Feb 15th, 2009. He sang several Sikh hymns in very powerful voice but his rendition of Guru Gobind Singh Ji's bani literally charged the congregation of over 400 with powerful emotions and it joined in with the jatha in singing the hymns in praise of the glorious Divine. It was a celestial feeling of ecstasy that was experienced in those sublime moments.
 
The Chardi Kala Jatha emanates love and devotion to the Guru. They have fashioned themselves not only in the Bana of Guru Gobind Singh but have also drenched their souls with Gurbani. You cannot simply watch them perform because you just get immersed in the spirit of the kirtan and are carried away to ethereal realms of the Guru's imagination. There is certainly an aura of Spirituality that flows spontaneously like a mountain spring.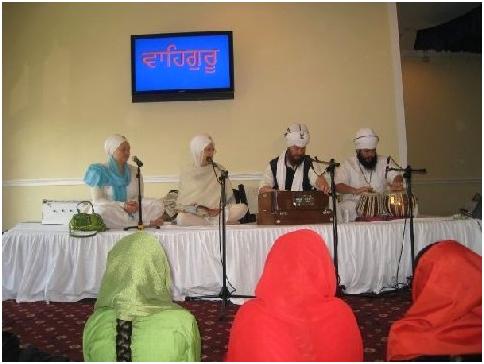 These young American Sikhs born and brought up in America by American Sikh parents are a tremendous source of inspiration and motivation to Punjabi Sikhs who find it difficult to face the challenges of keeping unshorn hair and wearing turbans. Looking at them I thought that were carved in the image of Guru Gobind Singh and how proud Guru must be to have Sikhs like them. They were born in this so called materialistic world but how untouched they were by its allures. Like beautiful swans they float majestically in the water and pick pearls of heavenly wisdom.

Amrit Kaur, Secretary of GGSF, said, "if I have to describe this moment in one word, I'll say "Electrifying."  She thanked the Jatha for coming to GGSF and invited Sada Sat Simran Singh to talk about his transformation.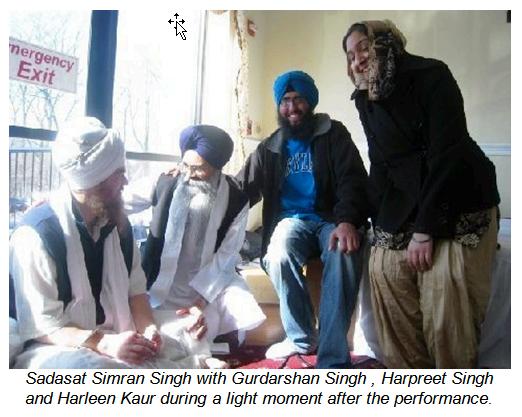 In impeccable Punjabi he said, "I was very fortunate to have been born in a Sikh family. Both my parents are Sikhs and I have been blessed by Guru. So there is no transformation as such. Let us not keep the barriers between Gora Sikh and Punjabi Sikh.  We all are Guru's Sikhs."

Then he addressed the youth and spoke briefly in English and said, "Since I have come to the fold of Guru I have never smoked, used intoxicants or eaten meat. The best way to stay away from trouble is to follow the footsteps of Guru."

Dr. Rajwant Singh, Executive Director of GGSF, said, "It is heartening to see their devotion and their hard work they have put in to learn kirtan in ragas. They sang first the shabad 'Dar mande thaadey darbar' in Raag Gunkali, a second shabad in Raag Des and then ended their performance with the hymn 'Nanak tina basant hai' in Raag Basant.  Sadasat Simran Singh, the lead singer can sing at ta ar saptak (higher notes) with ease which shows how much effort has been put in to bring this whole experience to perfection. They also performed the ending with traditional style of Darbar Sahib. This assured many that Sikh tradition is very well alive and thriving beyond the borders of Punjab."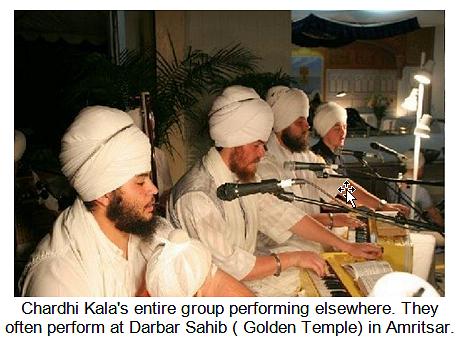 It is remarkable to note that the accent, pronunciation of Punjabi and diction of all the Jatha members is so strikingly pure that it is unimaginable to envision that they are American and not Punjabi Sikhs who are speaking or reciting Gurbani. We sincerely hope and pray that Chardi Kala jatha always remain in high spirits and they continue to motivate and inspire Sikh youth all over the world. In addition to GGSF, this jatha also performed at Guru Nanak Foundation of America in Silver Spring, Maryland and Raaj Khalsa Gurdwara in Herndon, Virginia.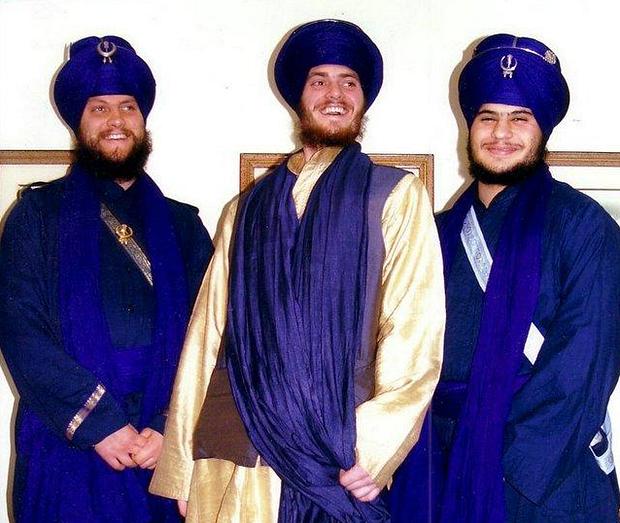 Contributed by Amrit Kaur
Pictures by Gagan Kaur
 
For more information about this group, visit their Web site at : ckjatha.com