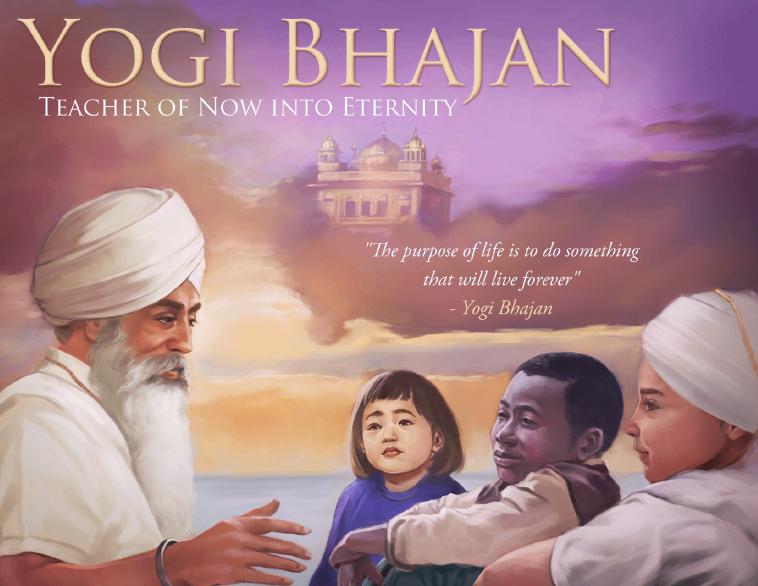 A new film is in the works and you can lend a hand. "Yogi Bhajan: The Teacher of Now into Eternity" is a unique new documentary about the life of Yogi Bhajan (Harbhajan Singh Khalsa Yogi Ji) how he touched many hearts and souls, and will continue to reach and teach for centuries to come.

This documentary will be an account of his life for those who have never met him. It will share the experience of the many varied aspects of the man, master, teacher, leader and saint. It will show the life that he led, the things he loved in life, and the teachings he delivered to help us move through this time of great change with strength and grace. It will show that to be human is to be divine and that his entire life was about being real: authentic, compassionate and aware. His path was enlightenment through the body. He left an imprint on the earth not only to show the human race that we are hardwired to find our own path to divinity, but to give us the long lost operating manual for this divine vehicle we call the human body.

This documentary will serve people coming to know him him today and for generations to come. It is designed to provide a deeper experience, the experience of being with the master. This film will touch , in a special way, those who were never blessed to meet him in his physical body. It will also be a wonderful experience for those already familiar with Yogi Bhajan, to feel their connection to him, learn more about him, and re-live years of experience dear to their hearts. Above all, it will support his influence to live on for the betterment of humankind.

Currently we are requesting donations of all sizes to get the ball rolling. Our first goal is raising $40,000 to cover set-up costs, start planning and researching, shoot initial interview footage, and produce a trailer to attract further funding interest. Please open your hearts to give; every donation helps us get closer to producing this film. To learn more or make a donation visit our web site.

Please send us your Yogi Bhajan stories, pictures, and videos.
Yogi Bhajan touched thousands of people with his teachings and training. Tell us your story about the Master from your own personal experience of him. Send us a short written narrative or video clip of yourself telling your story. Keep in mind, the main objective of this documentary is to show Yogi Bhajan as a person, as well as a teacher and leader. We are also seeking pictures and video footage of Yogi Bhajan from your collections. Please send your stories and materials to  [email protected].
About Yogi Bhajan

His life, light, and journey was to uplift humanity by sharing the teachings of Kundalini Yoga. Originally from Punjab, he came to the West and shared his mastery of this ancient technology. He did not come to gather students, he came to create teachers - that is why he always said, "This is not about me, it's about the Teachings. I am simply the mailman delivering the mail." For this reason he established 3HO: The Healthy, Happy, Holy Organization, to serve the legacy of happiness as a universal human birthright. In his own life, Yogi Bhajan modeled the path of the householder, living as a husband, father, spiritual teacher and leader. As the leader of Sikh Dharma in the West, he worked to create unity among all faiths united in the one Creator. He was one of only six people to receive Congressional recognition by the House of Representatives, cited as "an individual who was a wise teacher and mentor, an outstanding pioneer, a champion of peace, and a compassionate human being."

Yogi Bhajan left his physical body in 2004, but his presence remains with us every day. Today, there are thousands of individuals and communities in all corners of the world dedicated to living, sharing and serving these sacred teachings.