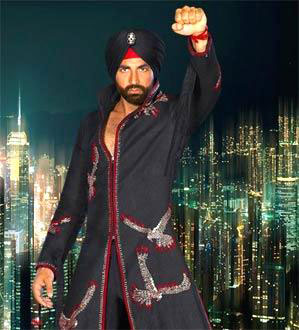 "I KNOW that my late grandmother and father, as well as my mother, myself and the entire country have believed that if there is one community that we can always be proud of - it is the Sikhs," said Rahul Gandhi on a recent visit to the Golden Temple in Amritsar.

His words struck the right note in 2008, a year when India's Singhs outshone all other communities and made the country proud.

This year has easily been the year of Punjab da puttar . In times when there was uncertainty all around with the economic slump, Singh became the catchword, an epitome of success across different fields.

Be it politics, sports, entertainment or business, the Punjabi community ruled 2008. From Singh is Kinng (Akshay Kumar) - Bollywood's hitherto highest grosser of 2008, to Prime Minister Manmohan Singh (in politics); and from Abhinav Singh Bindra and Vijender Singh (in sports) to brothers Malvinder and Shivinder Singh (in business), they constantly hit the headlines for the right reasons this year.

Abhinav Singh Bindra and Vijender Singh

While Abhinav Singh Bindra bagged India's first gold at the Olympics, golfer Jeev Milkha Singh too had a wonderful 2008, winning as many as four golf titles and reaching his career-best ranking of 36.

A proud A S Bindra, (Abhinav's father) had remarked after his son's gold medal; "My son has proved that 'Singh is King' in the real sense. He has brought laurels for the whole Sikh community and for the whole nation."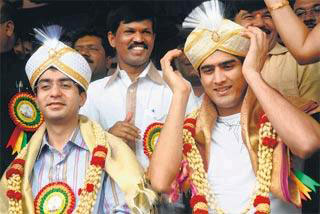 But Abhinav Singh Bindra chooses to put things humbly: "As far as my own achievement is concerned, it is a breakthrough at least for myself and the community. It was a distant dream that had been eluding Indians. I am happy it is now a reality."

The impact of the Singhs has been felt in many spheres.

Says Santosh Desai, MD and CEO of Future Brands; "Of late, there has been a Punjabisation of popular culture. All of India is following Punjabi things, its influence is increasing."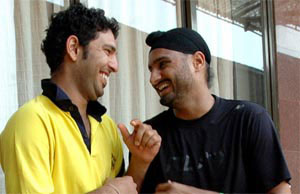 On the cricket field, Yuvraj Singh hit six consecutive sixes in IPL's first season of T-20 cricket while Harbhajan Singh became India's most successful offspin bowler by completing 300 wickets in test matches.

Cashing in on the mania, Bollywood icons started donning turbans.

From Salman Khan (in Heroes ) to Akshay Kumar, leading stars donned turbans to set the box office on fire.

Punjabi culture subsequently left its mark in Surinder Singh Sahni, the character Shah Rukh Khan played in the hit Rab Ne Bana Di Jodi to Abhay Deol's portrayal of Lucky Singh in Oye Lucky! Lucky Oye.

Saif Ali Khan and Ranbir Kapoor are also expected to be donning turbans in their upcoming movies directed by Imtiaz Ali and Shimit Amin, respectively.

Says film trade analyst Taran Adarsh; "Punjabi culture has always been a dominant influence on Bollywood and this year was no different. People with Singh in their names have given the country a reason to rejoice."

In business, Ranbaxy CEO Malvinder Singh proved that Cash is King, especially in times of an economic slowdown.

The Singhs managed to sell their family business to pharma company Daiichi of Japan for a whopping $1.6 billion in cash, just weeks before the stocks crashed on the Bombay Stock Exchange.


In politics, Prime Minister Manmohan Singh made history by winning the trust vote and getting the Indo-US nuclear deal cleared, ironically with the help of two Singhs - Amar Singh and Mulayam Singh Yadav.
Punjabi women, too, were not far behind in attaining glory. While Simran Kaur Mundi was crowned Femina Miss India Universe 2008, Google's President for Asia-Pacific (APAC) & Latin America operations, Sukhinder Singh Cassidy was named in Fortune's 50 Most Powerful Women in 2008.

Perhaps Navroze Dhondy, chief executive of Creatigies, a sports and celebrity management firm, best describes the factor that powers brand Singh; "Across the world, Singh and India have a very strong and tangible connect. The surname Singh means lion and if our lions cannot perform, then God help us."

-By Amit Sharma & Harsimran Singh, ET Bureau