One after another, the turban-clad men and women covering their heads touch the ground as they enter the worship hall of the towering Sikh Cultural Society in Richmond Hill.
It's Sunday prayer time in Queens.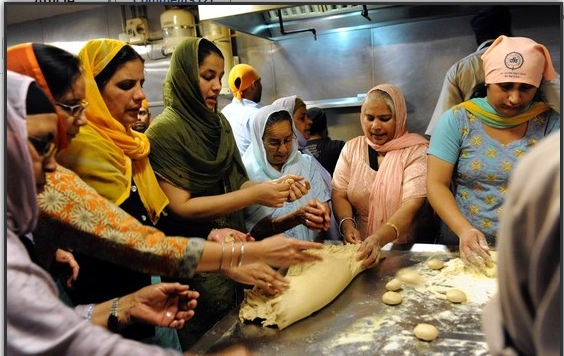 Stephanie Keith for the Wall Street Journal


Volunteers at the Sikh Cultural Society in Richmond Hill, Queens, help prepare a type of flat bread in the kitchen.

Downstairs, in the unlikeliest of places, there is a second worship taking place amid pyramids of onions and an 80-gallon vat of dal.
Here, men and women in an industrial kitchen work at a feverish pace forming small balls of dough, which are then patted and flattened into pancakes, tossed on a grill to cook and then onto a stove to puff. The rotis are brushed with ghee before landing in a large box with hundreds of others.
There is no chit-chat as the assembly line of volunteers works. The group ranges in age from an 80-year-old woman who comes every day (she says in Punjabi that it can get lonely being at home all day) to a 31-year-old man starting a new job as a chef the next day. They cook almost in a meditative silence, save the religious chants led by a man flipping rotis at the grill.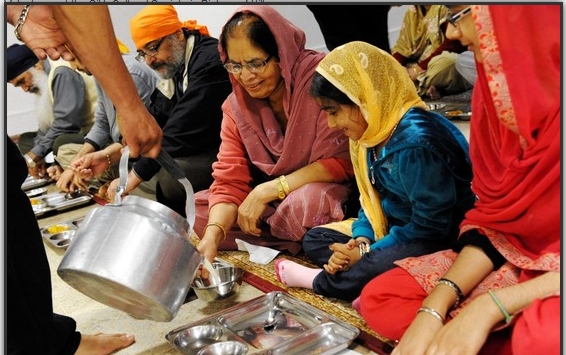 Stephanie Keith for the Wall Street Journal


Visitors are served a meal by other volunteers.

They say there's no such thing as a free lunch, but a staple at Sikh temples, or gurdwaras, across the world is the langar, a kitchen where food is offered without charge. Here it's available seven days a week, 5 a.m. to 11 p.m.
And it's tasty food (if you have a penchant for a little spice and don't miss the meat). Vegetable curries and dal, plenty of rotis to soak it all up and an array of sugary Indian sweets.
Richmond Hill is the center of a large population from Punjab, the Indian state where most Sikhs come from. To Sikhs, the food is blessed, a process that takes place when a plate with a taste of each curry is brought upstairs to the main prayer hall for the closing prayer before being mixed back into the food downstairs, or by reciting the prayer in the kitchen.
The Sikh Cultural Society on 118th Street is a more than 100,000-square-foot temple that opened nearly two years ago after the old one burned down. For 15 years Sewa Singh has managed the kitchen, a carefully planned operation that feeds 500 people on a typical day and more than 1,000 on Sundays.
Anyone is welcome, and there are many in this working-class community who start their day there with a cup of chai and chole (chick pea curry). Most meals are sponsored by members in honor of a birthday or special event. There is never a shortage of sponsors, who pay $501 for Sunday's meal, $351 for Friday's dinner, $200 for weekday lunches and $150 for breakfast.
The temple's dining hall can be found by walking downstairs to the basement, where you can pick up your own stainless-steel plates and utensils. Plop down on the worn strips of carpet and volunteers will even come over to ladle out curries onto your plate.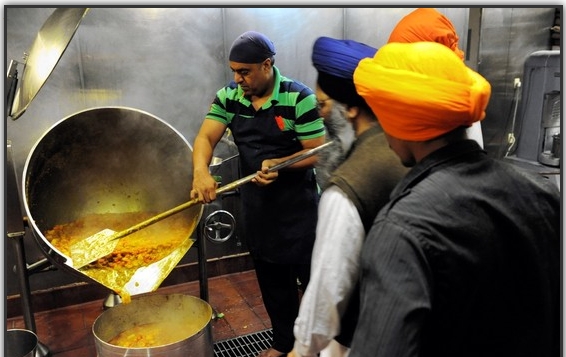 Stephanie Keith for the Wall Street Journal


Volunteers at the Sikh Cultural Society in Richmond Hill, Queens, help prepare a type of flat bread in the kitchen.

Mr. Singh, a quiet man wearing a purple turban and a white, soiled apron, leads us on a tour of the kitchen. The 45-year-old speaks Punjabi that is translated by Sharon KhunKhun, a local attorney and community organizer with SEVA.
In an average week, Mr. Singh says, the kitchen goes through 200 pounds of dal, 15 50-pound bags of onions and 70 20-pound bags of roti flour.
He leads us to a pantry that includes Kraft Macaroni & Cheese and Aunt Jemima syrup among the more traditional Indian cooking items, a nod to the tastes of a younger generation. Pizza, he says, is made for special kids' events.
The centerpiece of the kitchen is four steam-operated kettles that range in size from 40 gallons to 80.
Charan Kamal Singh spent more than four years designing the kitchen and boiler system.
He is most proud of the $6,000 kettles, whose steam-generated power results in a very quick, safe and efficient manner of cooking. He believes theirs is the first gurdwara in the U.S. or Canada to use such a system.
"You can give the public hot food at any time," he says, demonstrating the system's speed by pushing a switch that heats up the kettle in seconds.
"As you see, there's no flame; it's a concealed system. It takes four minutes to boil ice-cold water," he adds.
The lack of gas is significant, considering the old temple reportedly burned down because of a gas leak in the kitchen.
And there is another advantage to the steam cooking, notes Mr. Singh: the health benefits, which have been an issue at some langars because of the large amount of butter and oil used in the cooking.
"You can cook without any oil," says Mr. Singh. "But of course they don't listen," he adds.
(Indeed, the kitchen manager, says they use about one gallon of canola oil a day).
On a recent Sunday, the langar meal was sponsored by a group of young men, some still in high school.
They helped in the kitchen and outside of it, distributing food as dozens of people filed in.
Gurpreet Singh, a 20-year-old who was one of the sponsors, says in translated Punjabi that they wanted to receive blessings as a group and inspire a younger generation to be more involved at the temple.
"We want to be part of the tradition," he says.