On the 4th of July 2012, the students of Akal Academy Baru Sahib celebrated the Independence Day of United States with zeal and enthusiasm. The ambience of the beautiful newly constructed lounge was glorified by the fluttering of hundreds of U.S. flags in the hands of smart kids. There were various speeches and narrations on this occasion.
In the opening speech, a student narrated the history of the U.S. independence struggle. Another student gave valuable information about the life style, culture and people of U.S. while one spoke about the life-sketch of the great leader and ex-president Abraham Lincoln and his contributions.
The guest of honour Dr. Manmohan Singh Atwal, Vice-Chancellor of Eternal University presided over the function. The two distinguished guests from Cambridge University were Ms. Clare Deans and Ms. Betan Parry.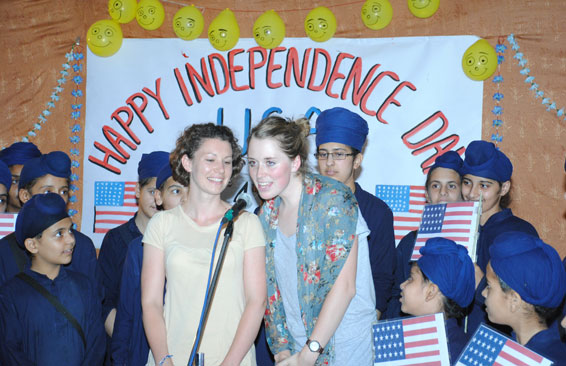 At the end of the function, U.S. National Anthem was sung by the students and guests creating a pleasant environment of different nationalities and cultures. Dr. Atwal shared his experience of his stay in the U.S. mentioning how the people of U.S. celebrate their independence day with fun and frolic.
The Director, Dr. Davinder Singh; Principal Dr. Neelam Kaur and staff of Akal Acadmey, Baru Sahib were mesmerised by the various presentations of the participants.